Recipe For Gruyere Gratin With Thyme
Say Cheese! Gruyere Gratin With Thyme Gruyere cheese is a popular hard cheese made from cow's milk. With origins in Switzerland, it is perhaps the best known type of Swiss cheese. Gruyere is also produced in France, but according to French agricultural law, it must have holes, while the Swiss version is solid. This slightly yellow cheese has a nutty flavor that's mildly salty and varies with age. Gruyere is great for both melting (it's a common ingredient in fondue) and eating out of hand. To see how I used this wonderfully creamy cheese,
.
Since I wanted a recipe that would highlight the pure essence of the cheese, I decided on a gruyere gratin. This dish is simple but wildly delicious. What's not to love about crusty bread and melted cheese? Don't skip the thyme, as it adds a delightful depth. Although the ingredients and technique are simple, the final gratin is complex, crunchy, gooey, and just plain scrumptious. It would be a welcome addition on any Easter table and, paired with a green salad, is a luxurious vegetarian meal.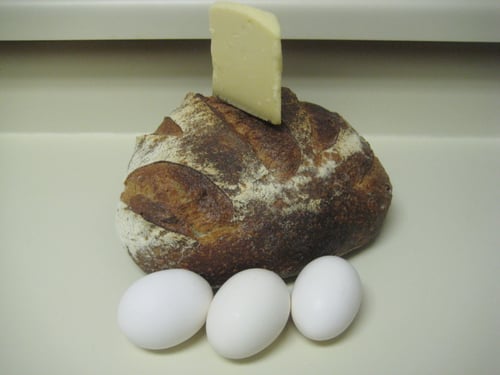 Ingredients
1 teaspoon unsalted butter
3 large eggs
1/2 cup heavy cream
3/4 cup milk
1/2 teaspoon salt
Pinch of freshly ground pepper
Pinch of freshly ground nutmeg
1/2 loaf white country or peasant bread (about 12 ounces), cut into 1-by-1-by-3-inch strips
1/4 cup dry white wine
1 cup grated Gruyere cheese
2 sprigs fresh thyme, leaves reserved
Directions
Heat oven to 350 degrees. Butter a shallow 1 1/2-quart baking dish, and set dish aside.
In a large bowl, whisk together the eggs, cream, milk, salt, pepper, and nutmeg.
Immerse the bread strips in the egg mixture. Immediately transfer strips to the baking dish, and arrange randomly on the bottom.
Pour the white wine and any remaining egg mixture over the bread strips.
Sprinkle the grated cheese and thyme leaves over top.
Transfer baking dish to oven. Bake until the gratin is puffy, the center has set, and the cheese is brown and bubbly, 30 to 40 minutes. Remove from oven, and serve.
Serves 4.
Information
Category

Cheese, Side Dishes

Cuisine

French