Recipe For Ham and Cabbage Reuben Sandwich
'Wich of the Week: Honey Baked Ham and Cabbage Reuben I love celebrating Easter, mainly because it means I get to make sandwiches with the leftover ham. This year, I decided to come up with a new sandwich that satisfies all year round.
I had way too much cabbage, but I didn't want to go to the trouble of cooking it, so I came up with the idea of pressing it raw into a panini. Low and behold, it worked. With Swiss cheese, the result was something like an earthier, crunchier Reuben with honey baked ham standing in for the usual salty-sweet combo of corned beef and Thousand Island dressing. To see how I made it and get the recipe,
. When assembling, be sure to put the ham down first, then the pickles; on the first try, I put the pickles directly on the bread, which caused tragic sogginess once it hit the panini maker. This sandwich would also probably work in the oven, but I recommend the panini press in order to thoroughly cook the cabbage.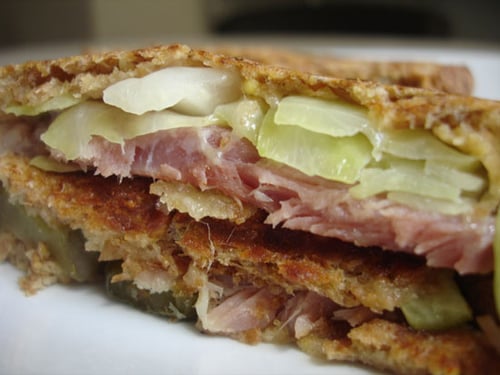 Honey Baked Ham and Cabbage Reuben
Original recipe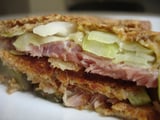 Ingredients
1 cup raw cabbage, cut into strips
4 slices wheat bread
4 teaspoons spicy mustard
6 slices Honey Baked Ham or similar
12 sandwich-size bread and butter pickle slices
1 tablespoon salt
2 slices Swiss cheese
Directions
Prepare the cabbage: place in a colander and salt generously. Place the colander over a bowl and allow the cabbage to "sweat" for at least one hour or as long as overnight. Rinse and pat dry.
Heat a panini press to medium.
To make each sandwich, spread 1 teaspoon of the mustard on one slice of bread and cover with ham. Top with 6 pickle slices, followed by half the cabbage.
Spread mustard on the second slice of bread, lay swiss cheese over cabbage, and place second slice mustard-side down on cheese.
Heat in the panini maker until cabbage is just wilted and cheese is melted, about 5 minutes.
Cut in half and serve immediately.
Makes 2 sandwiches.
Information
Category

Main Dishes, Sandwiches

Cuisine

North American