Recipe For Heirloom Tomatoes, Parmesan Crisps, and Herb Salad
Summer of Salads: Tomato Napoleons With Parmesan Crisps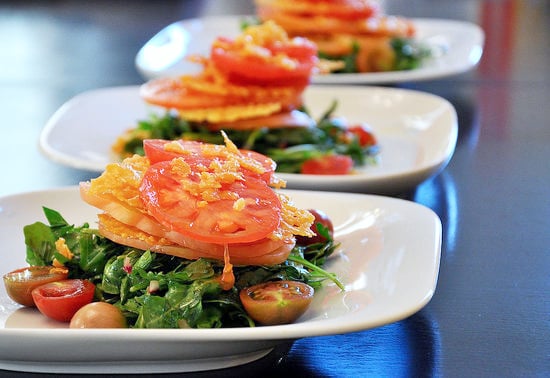 The minute tomatoes appear at the farmers market, I eat a Caprese salad nearly every week. It is one of those dishes that exudes Summer flavor. Recently, I was thrilled to find a new twist on the classic that incorporates parmesan crisps and heirloom tomatoes on a bed of herbed salad.
This salad is very simple to make and could easily be prepped in advance for a dinner party; then, quickly assemble to impress your guests — that's what I did. Watch the parmesan crisps when baking: just as mine started to turn a lovely golden color, they began to smoke. They weren't burning, but smoking enough to set off my smoke detector!
The herbed salad with Champagne vinaigrette and complex greens complements the ripe tomatoes and irresistible parmesan crisps, creating a perfect Summer salad. To try something new with colorful heirloom tomatoes, keep reading for the recipe.
Ingredients
For the parmesan crisps:
2-1/2 cups grated Parmigiano-Reggiano
For the vinaigrette:
1 small shallot, minced (about 1-1/2 Tbs.)
4 tsp. Champagne vinegar
1 tsp. Dijon mustard
Kosher or sea salt and freshly ground black pepper
2 Tbs. extra-virgin olive oil
2 Tbs. grapeseed oil or canola oil
To assemble:
1 cup baby arugula leaves
1 cup fresh flat-leaf parsley leaves
1 cup fresh basil leaves, torn into bite-size pieces if large
1/2 cup fresh tarragon leaves
1/2 cup 1-inch-long fresh chive pieces
Kosher or sea salt and freshly ground black pepper
Sixteen 1/3-inch-thick heirloom tomato slices, preferably of different colors, sizes, and shapes (2 to 3 lb.)
About 20 various heirloom cherry tomatoes, halved or quartered
Directions
Make the parmesan crisps: Position a rack in the center of the oven and heat it to 375°F. Line a rimmed baking sheet with a nonstick baking liner or parchment. Spread the grated cheese over the entire surface of the liner. Bake until the cheese is amber brown, about 18 minutes. Remove from the oven and cool. Break into irregular pieces (each about 3 inches across). You'll need 12 pieces for the Napoleons, but this batch makes extra to cover the inevitable breaking (and snacking).
Make the vinaigrette: Put the shallot, vinegar, mustard, and a pinch each of salt and pepper in a small bowl or dressing cruet. Allow the shallots to sit in the vinegar for at least 20 minutes and up to 1 hour. Whisk or shake in both oils. Season to taste with more salt and pepper.
To serve: In a large bowl, mix the arugula, parsley, basil, tarragon, and chives. Lightly dress with some of the vinaigrette. Season to taste with salt and pepper.
Divide the salad evenly among 4 salad plates. Arrange a large tomato slice on each salad, sprinkle lightly with salt, and top with a piece of parmesan crisp. Continue to alternate the lightly salted tomatoes and cheese pieces until you have used 3 pieces of the parmesan crisp in each Napoleon. Finish off the top of each Napoleon with an unsalted tomato slice. Arrange the cherry tomatoes around the Napoleons and drizzle any remaining vinaigrette around the plates. Sprinkle everything with salt and pepper. Serve immediately.
Serves 4.
Information
Category

Vegetables, Salads

Cuisine

North American
Are you loving tomatoes too this Summer? Share your favorite recipes with the YumSugar Community and we might even feature it!