Recipe For Homemade Variation of Samoas Girl Scout Cookies
Score Brownie Points With Homemade Samoa Tartlets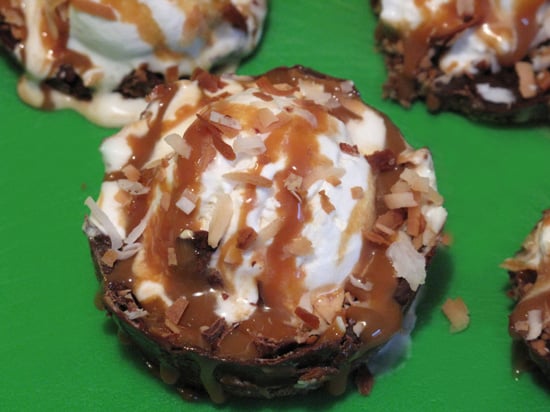 There are a few bright spots in every Winter, namely the following, in no particular order: snow sports, the Super Bowl, hot cocktails, and Girl Scout cookie season. But sadly, my attempts to track down cookies this year have been in vain, as I haven't seen so much as a single Daisy, Brownie, or Junior anywhere in the Bay Area.
To remedy the situation, I took matters into my own hands with a homemade variation of the Caramel DeLite, or Samoa, the Girl Scout cookie to end all other Girl Scout cookies.
This version, if I must say, is even better than the original. It starts out with a tartlet base of brown sugar, chocolate, butter, and toasted coconut, then gets the royal treatment with a scoop of coconut ice cream, dulce de leche, and more toasted coconut. The only drawback? They'll be gone in seconds. For the recipe, keep reading.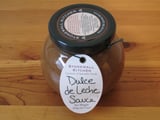 Ingredients
3 tablespoons cold unsalted butter, cut into pieces, plus more for greasing
1/3 cup all-purpose flour
1 cup shredded coconut, toasted, plus more for garnish
2 tablespoons packed light brown sugar
5 ounces semisweet or bittersweet chocolate, very finely chopped
1/4 teaspoon salt
3/4 cup dulce de leche, warmed (available in the dessert-topping section)
1 quart coconut ice cream
Directions
Position a rack in the middle of the oven and preheat to 350 degrees. Grease a 12-cup muffin pan with butter.
Pulse the flour, 1/4 cup coconut, brown sugar and salt in a food processor until combined. Add the cold butter and pulse until the mixture resembles wet sand with pea-sized pieces, about 5 times. Put 1 heaping tablespoon of the mixture in each muffin cup and press to make even rounds. Bake until the crusts are golden, about 20 minutes.
Remove the pan from the oven and sprinkle the chocolate evenly over each crust. Turn off the oven; return the pan to the oven to melt the chocolate, about 3 minutes. Sprinkle each crust with 1 tablespoon of the remaining coconut. Cool slightly, then freeze crusts in the pan until set, about 15 minutes.
With a thin spatula, gently remove each crust from the muffin pan. Top with a small scoop of coconut ice cream, drizzle with dulce de leche and garnish with more coconut.
Makes 12 servings.
Information
Category

Other, Desserts

Cuisine

North American