Recipe For Lobster Club Sandwich Inspired by Neiman Marcus
'Wich of the Week: Lobster Club
Ever since I started my adventures in expensive sandwiches, I've been dying to try the ridiculously pricey Lobster Club at Neiman Marcus's Rotunda restaurant in San Francisco. I'll be the first to admit that $28 is way too much to pay for one sandwich, but I rationalized that it's made with lobster and big enough to feed two people. Plus, it's fun to pretend that I belong at this quintessential destination for ladies who lunch. The Rotunda's lobster club is a double-decker served on toasted brioche, which has a slightly sweet French bakery flavor. The lobster portion was quite generous, so the taste came through even while competing with tomato and bacon. Was it worth $28? Find out and get the recipe when you
. I'm not going to say the lobster club wasn't good; I mean, it would be hard to make a lobster club taste bad. But for the price, I was a little disappointed.
As you can see in the photo, the avocado was sort of clumped together rather than distributed evenly, so the sandwich didn't hold together as well as it should have. But the flavors were still outstanding, particularly the lobster meat, and the brioche really stepped it up a notch.
If I were going back for seconds, I think I'd spring for a simple crab roll instead, or save my money and get an old-school diner club sandwich. I am very glad I tried it, but next time I'm at the Rotunda, I'll fill up on the signature warm popovers with strawberry butter.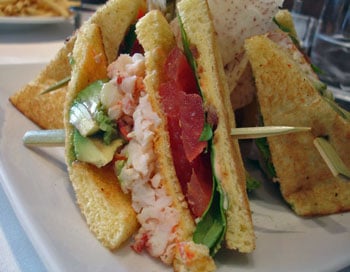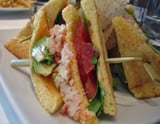 Ingredients
3 slices of brioche, about 1/2-inch thick, toasted
1/2 an avocado, thinly sliced
1 (8-ounce) lobster tail, cooked and diced
1 small tomato, thinly sliced
1/4 cup baby lettuce leaves
4 slices crisp bacon
1/8 cup mayonnaise
2 tablespoons finely diced roasted red peppers, undrained
Directions
On a work surface, lay flat one slice of toasted brioche and coat with a thin layer of mayonnaise. Top with avocado slices, followed by lobster.
On second piece of brioche, spread 1 tablespoon of diced peppers on one side, then place that side down atop the lobster.
On the other side of that slice, spread a thin layer of mayo.
Over the mayo, arrange tomato slices, followed by lettuce and bacon.
Spread remaining diced peppers on the third slice of toast, and place atop the bacon.
Cut into quarters, secure each section with toothpicks, and serve.
Makes 1 sandwich.
Information
Category

Main Dishes, Sandwiches

Cuisine

North American