Recipe For Mexican Sloppy Joe Sandwich With Carnitas
'Wich of the Week: Sloppy Jose
Food often tastes better on camping trips; it takes so much effort to make that I'm usually starving by the time I eat. Because I first tried Trader Joe's carnitas while roughing it, I had to revisit this tasty pork at home. Dare I say, it was better than I remembered. The fully cooked Mexican-style pork is easy to prepare — warmed in a saucepan with TJ's red mole sauce — but I wanted to expand its horizons. Naturally, I thought, "sandwich!" and imagined piling the pork onto soft bread with avocado, salsa, and cheese. Then I realized that the smoky, sweet flavor of the carnitas and mole reminds me of Sloppy Joes. Thus, the Sloppy Jose was born. To see how it came together,
.
Though I used Trader Joe's packaged, cooked carnitas, you could also make the pork from scratch or use homemade mole in place of the jarred product. But if you live near a TJ's, I highly recommend their versions for a quick and easy dinner. I also added brown sugar to my mole to give it a more Midwestern comfort-food flavor.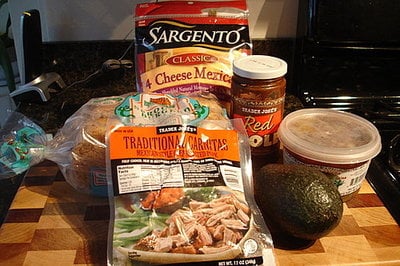 Sloppy Jose
Original recipe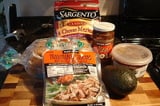 Ingredients
6 oz. prepared red mole sauce
1 tablespoon brown sugar
1/4 teaspoon hot sauce, or more to taste
1 tablespoon water or broth
12 oz. fully cooked pork carnitas, cut into bite-size pieces
4 whole wheat hamburger buns
1 cup shredded lettuce*
1/2 cup shredded Mexican cheese blend
Half of an avocado, cut into thin slices
1/4 cup salsa
Directions
In a saucepan over low heat, combine the mole sauce, brown sugar, hot sauce, and water or broth; heat for 2-3 minutes, stirring occasionally.

To the saucepan, add carnitas and stir to coat. Cook slowly over low heat for 10 minutes or until fully heated through, stirring occasionally and breaking up the pork.
To make each sandwich, place 1/4 cup shredded lettuce on the bottom bun, then top with carnitas. Sprinkle a layer of shredded cheese over the pork, then lay a few slices of avocado over the cheese. Top with a spoonful of salsa, and place the top of the bun over the stack of ingredients to serve.
Makes 4 sandwiches.
*I used red leaf lettuce. However any other cool, crunchy lettuce (iceberg, romaine, etc) would be delicious.
Information
Category

Main Dishes, Sandwiches

Cuisine

Mexican