Check out this delicious recipe for mochi cupcakes with green tea frosting from OnSugar blog Yoo Eatz:
This week, my neighbor Jamie invited me to a Real Housewives-style lunch (sans crazy drama and plastic surgery) at her house with a couple other ladies from the block. Our other neighbor Cathy offered to whip up some of her delicious egg rolls and noodles, Jamie supplied her precious Lupicia tea, and since Jamie has her hands full chasing around her adorable 10-month-old daughter, I figured I would chip in with dessert. But what to bring that would be tasty next to Cathy's delicious Chinese delectables and Jamie's wonderful tea?
One of my favorite Japanese treats is daifuku manju: sweetened mochi (rice cake) filled with an (sweet bean paste) that is intended to be eaten with tea. I used to love to stop at Benkyo-do in Japantown for a manju sampler: white mochi with red koshi-an (smooth bean paste), pink mochi with white koshi-an, green tea mochi with red tsubushi-an (chunky bean paste). Lately, I have been intrigued with how to infuse my favorite Asian flavors into traditional western pastries, and since cupcakes afford so much flexibility with ingredients and textures, they seemed like a good starting point.
For the recipes, read on.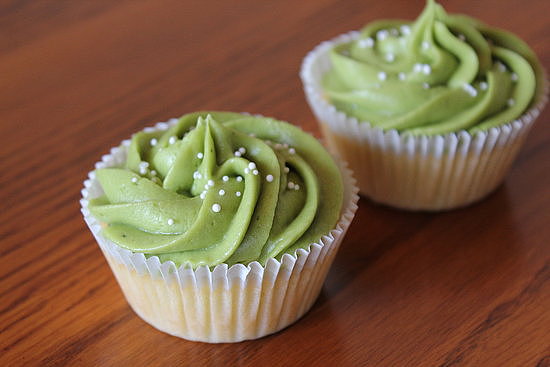 I wanted the cupcake to mimic the sensation of biting into chewy, soft daifuku manju, so I knew that the cupcake batter needed to contain mochiko flour, and the an would need to make an appearance, too. But I also love the flavor of green tea with manju, so I figured: why not use some matcha powder to whip up some green tea frosting? After tracking down a few recipes online, I had a good base to start with. I made my own an, but you can find it premade in Japanese grocery stores (though it tends to be on the sweet side . . . if you make your own, you can control the sugar).
Thanks to Apple Pie, Patis & Pate, JustJenn Recipes, and Cupcake Bake Shop for providing the recipes and inspiration for my experiment.
P.S. When you cut the cupcakes in half, they look like those crazy-haired, naked troll dolls that I used to collect back in the '80s.
Want to see more? Start following Yoo Eatz, or start your own OnSugar blog. Your own recipes might be featured on YumSugar!