Recipe For Orecchiette With Broccoli Rabe and Chickpeas
Fast & Easy Dinner: Orecchiette With Broccoli Rabe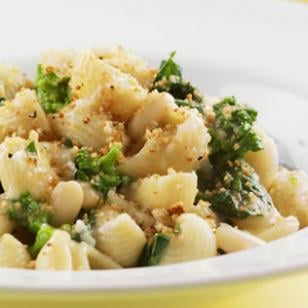 Sometimes when I want to get crazy with my pasta dishes, I swap out the usual spaghetti or penne for orecchiette — it's one of my favorite pasta shapes.
Throw in some nutty broccoli rabe and chickpeas (garbanzo beans), toss in a light, garlicky sauce, and you have a healthy vegetarian dinner that's a cinch to make.
For the recipe, keep reading.
Orecchiette With Broccoli Rabe & Chickpeas
Ingredients
4 ounces whole-wheat orecchiette, or chiocciole (about 1 1/2 cups)
1/2 bunch broccoli rabe, ends trimmed and cut into 2-inch pieces
3/4 cup vegetarian chicken-flavored broth
2 teaspoons all-purpose flour
1 tablespoon extra-virgin olive oil
4 large cloves garlic, minced
1/2 teaspoon minced fresh rosemary, or 1/8 teaspoon dried
1 8-ounce can chickpeas, drained and rinsed
2 teaspoons red-wine vinegar
1/8 teaspoon salt
1/4 teaspoon freshly ground pepper
Directions
Bring a large saucepan of water to a boil. Cook pasta for 6 minutes. Add broccoli rabe and continue cooking, stirring occasionally, until the pasta and broccoli rabe are just tender, about 3 minutes more. Drain. Rinse and dry the pot.
Whisk broth and flour in a small bowl. Heat oil in the pot over medium-high heat. Add garlic and rosemary and cook, stirring, until fragrant, 30 seconds to 1 minute. Whisk in the broth mixture. Bring to a simmer, whisking constantly, until it thickens. Add chickpeas, vinegar, salt, pepper and the pasta mixture. Cook, stirring constantly, until heated through and coated with the sauce, about 2 minutes.
Serves 2.
Nutrition (per serving): 413 calories, 9 g fat (1 g sat, 6 g mono), 0 mg cholesterol, 74 g carbohydrates, 22 g protein, 14 g fiber, 655 mg sodium, 448 mg potassium.
Information
Category

Pasta, Main Dishes