Recipe For Pasta With Fresh Tomato Sauce
Seize the Last of Tomato Season With Fresh Pomodoro Sauce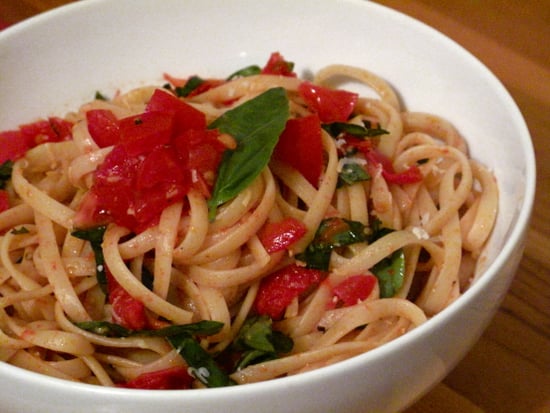 What's a girl to do with 50 pounds of very ripe Early Girl tomatoes? After a canning adventure, I found myself asking that question. One could make any manner of gourmet things, from slow-cooked jam to a tomato tart. But knowing that off-the-vine tomatoes were on the cusp of withering away, I couldn't enjoy them with anything but the simplest, most unadulterated preparations.
For lunch, it was a classic Caprese salad. For a snack, tomato salsa with a blazing jalapeño kick. And for dinner, the pièce de résistance: an understated bowl of linguine with barely-cooked tomato sauce.
The tomato sauce fits the season perfectly. It has the dribbling juiciness of a raw tomato, but the heavier body of a classic pomodoro sauce. I drizzled the finished product with a fruity olive oil, and a sweet fragrance hung over every bite I savored. It was good enough to be dinner one night, then breakfast the next day. Do the same with your tomatoes when you get the recipe.
Ingredients
Salt
3-5 tablespoons butter or olive oil
1½ pounds tomatoes, roughly chopped
1 pound linguine or other long pasta
1/2 cup shredded fresh basil leaves, if desired
Freshly grated parmesan, if desired
Directions
Bring a large pot of water to a boil and salt it. Put the butter or oil in a large skillet over medium heat; when the oil is hot or the butter's foam subsides, add the tomatoes.
Cook, stirring occasionally, until the tomatoes break up, about 10 minutes, adding salt and freshly ground black pepper to taste. Meanwhile, cook the pasta until done; drain.
Toss together pasta and sauce, along with basil and parmesan, if you like. Taste and adjust the seasoning and serve.
4 to 6 servings.
Information
Category

Pasta, Main Dishes

Cuisine

Italian