Recipe for a Perfectly Moist Peach Pound Cake
Peachy Keen Pound Cake
A few weeks ago, a large bag of ripe white peaches arrived at the Sugar HQ. We ate as many as we could, but on Friday afternoon I noticed that there were quite a few left. Knowing that they wouldn't last the weekend, I brought them home and decided to make a sweet breakfast treat for the office. I found a recipe for a peach pound cake, and while not particularly healthy, it was absolutely delicious. The peaches added a nice fragrant flavor, and the yogurt allowed for a perfectly moist crumb. To get the recipe, just
.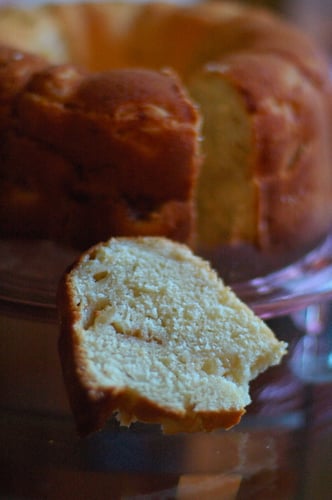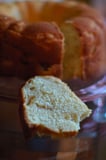 Ingredients
1 cup butter (no substitutes), softened
2 cups sugar
6 eggs
1 teaspoon almond extract*
1 teaspoon vanilla extract
3 cups all-purpose flour
1/4 teaspoon baking soda
1/4 teaspoon salt
1/2 cup sour cream**
2 cups diced fresh or frozen peaches***
Confectioners' sugar (optional)
Directions
In a large mixing bowl, cream butter and sugar until light and fluffy.
Add eggs, one at a time, beating well after each addition.
Beat in extracts. Combine the flour, baking soda and salt; add to the batter alternately with sour cream.
Fold in the peaches.
Pour into a greased and floured 10-in. fluted tube pan.
Bake at 350° for 60-70 minutes or until a toothpick inserted near the center comes out clean. Cool for 15 minutes before removing from pan to a wire rack to cool completely.
Dust with confectioners' sugar if desired.
Makes 1 cake, 12-16 servings.
*I found the amount of almond extract to be a bit overwhelming, if I make this cake again, I would cut the amount in half.
**This recipe calls for sour cream, but I ended up using Trader Joe's organic lowfat yogurt instead. If you don't have a Trader Joe's near you, try Wallaby Vanilla yogurt. They have a similar liquid-y texture.
***Use firm but ripe peaches. Mine were overripe, and should have been pureed in order to evenly distribute the peach flavor.
Information
Category

Desserts, Cake