Recipe For Puente Punch, an Orange Dreamsicle Cocktail
Happy Hour: Puente Punch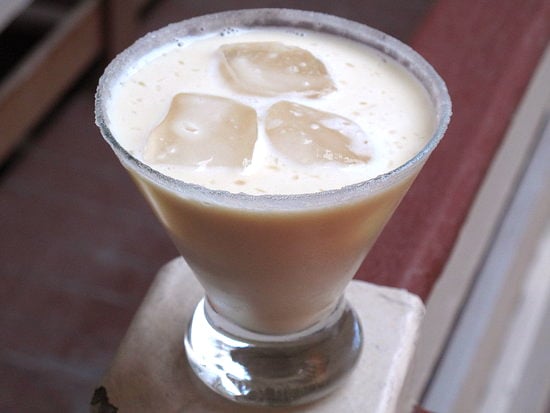 When the mercury rises, one of the drinks I crave is an Orange Julius; the nostalgic concoction reminds me of Summers past as a mallrat, wandering the food court of the King of Prussia Mall with my schoolmates.
So I couldn't resist trying a dessert drink described as a "grown-up Orange Julius." This version, named after Latin band leader Tito Puente, is spiked with amber rum and made sweeter with condensed milk. Flecked with bits of ice, it's rich yet refreshing — and almost makes me wish I were back in school again. To make the cocktail, read on.
Ingredients
1 lime wedge
Granulated sugar
Ice
1/4 cup fresh orange juice
2 tablespoons sweetened condensed milk, at room temperature
1/8 teaspoon pure vanilla extract
1/2 teaspoon sugar
1/4 cup amber rum, preferably Brugal Anejo Dominican Rum
Directions
Moisten the outer rim of a highball glass with the lime wedge and coat with sugar.
Fill the glass and cocktail shaker with ice. Add the 1/2 teaspoon of sugar, the orange juice, condensed milk, vanilla extract and amber rum; shake well. Strain into the prepared glass.
Makes 1 cocktail.
Information
Category

Drinks, Cocktails

Cuisine

North American