Recipe For Raspberry Turnovers
Reader Recipe: Raspberry Turnovers One of life's pleasures is spotting a mouthwatering recipe to add to your repertoire, reading through it, and realizing you already have many of the items on the ingredient list. This was the case when I came across Syako's recipe for fruit turnovers, which transforms everyday ingredients like cream cheese, puff pastry, milk, and jam into flaky, golden pockets of nectar. Since I happen to have all of these things in my pantry at this very moment, I've decided there's no time like the present, and I'll be making these tonight! To get the recipe,
.
Submitted by TeamSugar member Syako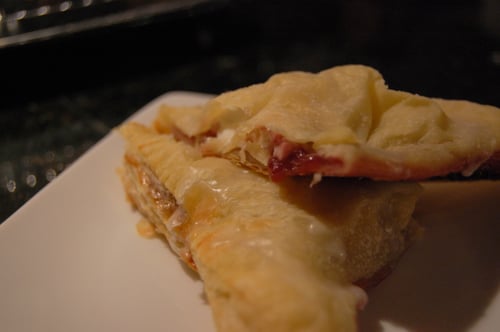 Ingredients
2 frozen puff-pastry sheets, thawed
One 8-ounce package cream cheese, cut crosswise into 8 equal slices
1/2 cup (roughly) raspberry seedless jam (or any flavor jam)
1 large egg beaten with 1 teaspoon water
1/4 cup confectioners' sugar
1 teaspoon milk
1/4 teaspoon pure vanilla extract
Directions
1. Preheat the oven to 400°F. Line a baking sheet with parchment paper or spray with cooking spray. On a floured work surface, set a thawed puff-pastry sheet on top and roll out the pastry to a 9-1/2-inch square; cut into 4 squares.
2. Lay 1 piece each of the cream cheese and 1 tablespoon jam diagonally in the center of each pastry square. Brush the pastry edges with some of the beaten egg; fold to enclose, forming a triangle. Pinch the edges to seal, then crimp with a fork. Brush the egg all over the top and sides. Repeat with the remaining pastry, cream cheese, and jam.
3. Arrange the turnovers on the prepared baking sheet. Bake until puffy and golden, 15 to 20 minutes. Transfer to a rack to cool for 15 minutes.
4. Meanwhile, stir together the confectioners' sugar, milk, and vanilla until smooth. Drizzle the glaze over the cooled turnovers.
Information
Category

Desserts, Pastries