Recipe For Roasted Beet Sandwich With Avocado, Goat Cheese, and Toasted Almonds
'Wich of the Week: Roasted Beets, Avocado, and Goat Cheese How do I love beets? Let me count the ways. They are ridiculously easy to roast, they add a surprising and novel texture to Summer salads, and they have an exotic flavor that pairs well with Mediterranean food. Plus, right now, they are in season and especially divine.
Inspired by a salad I recently ordered at a restaurant, I wanted to capture the graceful contrast of buttery avocado, silky beets, and sweet toasted almonds. As condiments, I used only spreadable goat cheese and vinaigrette, which I tossed with the almonds and mixed greens. The bread I bought at my farmers market was perfect: California "black bread" that tastes like sweet pumpernickel. To make your own sophisticated beet sandwich, read more.
Roasted Beet, Avocado, and Goat Cheese Sandwich
Original recipe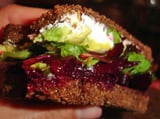 Ingredients
2 medium beets, roasted and sliced into 1/2-inch thick rounds
1/4 cup slivered almonds
1 cup mixed greens
vinaigrette of your choice
4 slices black bread or pumpernickel
2 ounces soft goat cheese
1/2 of an avocado, cut into thin slices
Directions
First roast the beets. After they cool, slice them horizontally into 1/2-inch-thick rounds.

In a skillet over low heat, toast the almonds for about 5 minutes, turning frequently. Set aside to cool.

In a small bowl, toss the mixed greens with the almonds and vinaigrette.

In a toaster, toast each slice of bread until it's firm but not hard.
To make each sandwich, spread one ounce of goat cheese on the bottom slice of bread, then top with 1/4 of the avocado slices. Place a handful of greens on top of the avocado, followed by 4 to 5 slices of beets.

Place the second slice of toast on top of the beets, cut in half diagonally, and serve.
Makes 2 sandwiches.
Information
Category

Main Dishes, Sandwiches

Cuisine

Mediterranean/Middle Eastern