Recipe For Salmon Sandwiches With Wasabi Cream Cheese
'Wich of the Week: Smoked Salmon With Wasabi Cream Cheese
I don't often buy German-style dark rye bread, but when I spotted some at Trader Joe's the other day, I knew it would be perfect for the Swedish-inspired salmon sandwiches I'd been wanting to make. I ditched the original recipe's finger-sandwich suggestion and made full-size but dainty sandwiches instead. Layering smoked fish on dark bread definitely has a Scandinavian feel, but the wasabi cream cheese adds an eye-opening Japanese kick. The nutty bread combined with velvety fish, creamy avocado, and even creamier spread makes for a cold sandwich that's hearty enough for dinnertime. My only complaint was that the wasabi — which I love — was too subtle. Next time, I'd mix in more, and if you like the tingly mustard, I suggest you do the same. To get the easy recipe,
.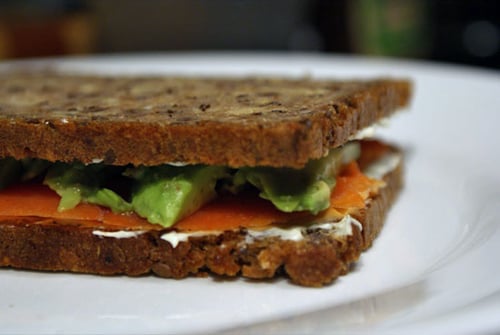 Smoked Salmon Sandwiches With Avocado and Wasabi Cream Cheese
Modified From Dave Lieberman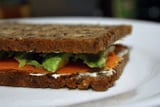 Ingredients
1 tablespoon wasabi powder
2 teaspoons water
8 ounces cream cheese, room temperature
8 slices German-style rye bread
1 ripe Hass avocado
1/2 lemon
8 ounces smoked salmon, thinly sliced
Directions
Mix wasabi powder and 2 teaspoons water in medium bowl to form paste. Add cream cheese and stir with a rubber spatula until well combined.

Place all bread slices on work surface. Spread each slice with a thin, even layer of the cream cheese.

Cut the avocado in half lengthwise and twist the 2 halves apart and remove the pit. Use a spoon to remove the avocado flesh from one half. Slice the each half into 1/8-inch slices. Place the avocado slices in a bowl and squeeze juice from 1/2 lemon over avocado slices and toss gently.
Cover each bread slice with a single layer of salmon, followed by a layer of avocado slices.

Top each sandwich with remaining slice of bread.
Makes 4 sandwiches.
Information
Category

Main Dishes, Sandwiches