Recipe For Sardine and Arugula Sandwich From 1989 Issue of Esquire
'Wich of the Week: Sardine and Arugula Sandwich
Since I make my sandwich obsession so public, my friends and family are always passing along recommendations and recipes. I was especially tickled by an article my mom tore out of an old Esquire magazine from 1989, entitled "New Hope For the Bread." My dad and I share a love of Esquire, so these sandos are well-suited to Father's Day. The '80s sandwich tribute included such forward-looking recipes as an open-faced polenta sandwich and a breadless one eerily similar to my eggplant grilled cheese. I chose the simple sardine and arugula sandwich (arugula in '89! who knew?) to showcase this super-healthy, sustainable fish. It was tasty but there were some things I'd do differently, find out what and
.
The magazine recommended water-packed sardines, but I think oil- or mustard-packed make for a tastier and less dry sandwich. In addition, I spread a bit of mustard on the bottom slice of bread to hold everything in place. Rather than sprinkle crumbled egg yolk over the sardines, as suggested in the article, I couldn't resist using lovely whole egg slices. Here's my modified recipe.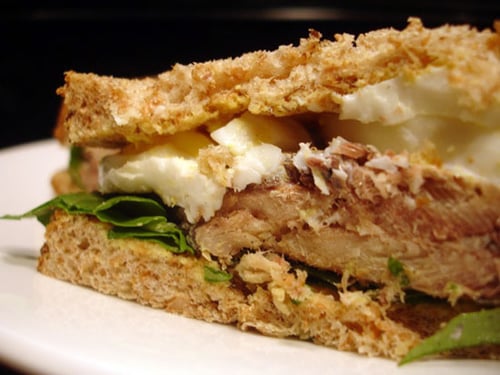 Sardine and Arugula Sandwich
Modified from Esquire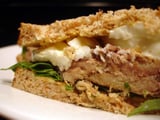 Ingredients
2 tablespoons Dijon mustard
8 slices Jewish rye bread
2 handfuls arugula
1 tablespoon walnut or olive oil
2 tins good quality oil-packed sardines, drained
2 hard-boiled eggs, sliced
Directions
Spread one half tablespoon of mustard on four slices of bread.

Toss the arugula with the oil and place it on the mustard-coated slices. Arrange the sardines over the arugula.

Lay the hard-boiled egg slices over the sardines.

Top with remaining bread, cut in half, and serve.
Makes 4 sandwiches.
Information
Category

Main Dishes, Sandwiches

Cuisine

Italian