Recipe For Sausage and Clams With Polenta
Monday's Leftovers: Sausage and Clams With Polenta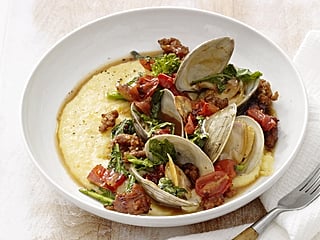 Start your week off on the right foot by making a meal that goes against all the rules. This recipe proves that clams don't always have to be paired with fish or shellfish, and they aren't only ideal in potato chowders or pastas.
Just as a meaty short rib or a bolognese sauce would pair with polenta, do leftover steamed clams with crumbled Italian sausage to tie everything together.

White wine adds acid, and broccoli rabe and baby tomatoes round out the dish. For a one-pot Monday night meal that'll break new ground in your kitchen, read more.
Sausage and Clams With Polenta
Ingredients
1 cup instant polenta
2 tablespoons extra-virgin olive oil
4 cloves garlic, sliced
1 bunch broccoli rabe, florets chopped, or 1/2 head escarole, chopped
Kosher salt and freshly ground pepper
3/4 pound hot or sweet Italian sausages, cut into chunks
1 pint grape tomatoes, halved
3/4 cup dry white wine
16 littleneck clams, scrubbed
Chopped fresh parsley, for topping (optional)
Directions
Cook the polenta as the label directs; keep warm.
Meanwhile, heat the olive oil in a large pot over medium heat. Add the garlic and broccoli rabe, season with salt and pepper and cook until the broccoli rabe is slightly tender, about 6 minutes. Transfer to a plate. Add the sausage to the pot and cook until just brown, breaking it up with a spoon, about 5 minutes. Add the tomatoes and cook until soft, about 2 minutes. Add the wine, bring to a boil and cook 3 minutes.
Add the clams; cover and cook over medium-high heat until the clams open, 5 to 7 minutes (discard any that do not open). Return the broccoli rabe to the pot and season with salt and pepper. Divide the polenta among bowls and top with the sausage-clam mixture and cooking liquid. Sprinkle with parsley, if desired.
Serves 4.
Nutritional information per serving: Calories 468; Fat 15 g (Saturated 4 g); Cholesterol 45 mg; Sodium 676 mg; Carbohydrate 49 g; Fiber 5 g; Protein 30 g
Information
Category

Main Dishes, Shellfish

Cuisine

North American