Recipe For Simple Panna Cotta With Strawberries
Berry Tempting: Strawberry Thyme Panna Cotta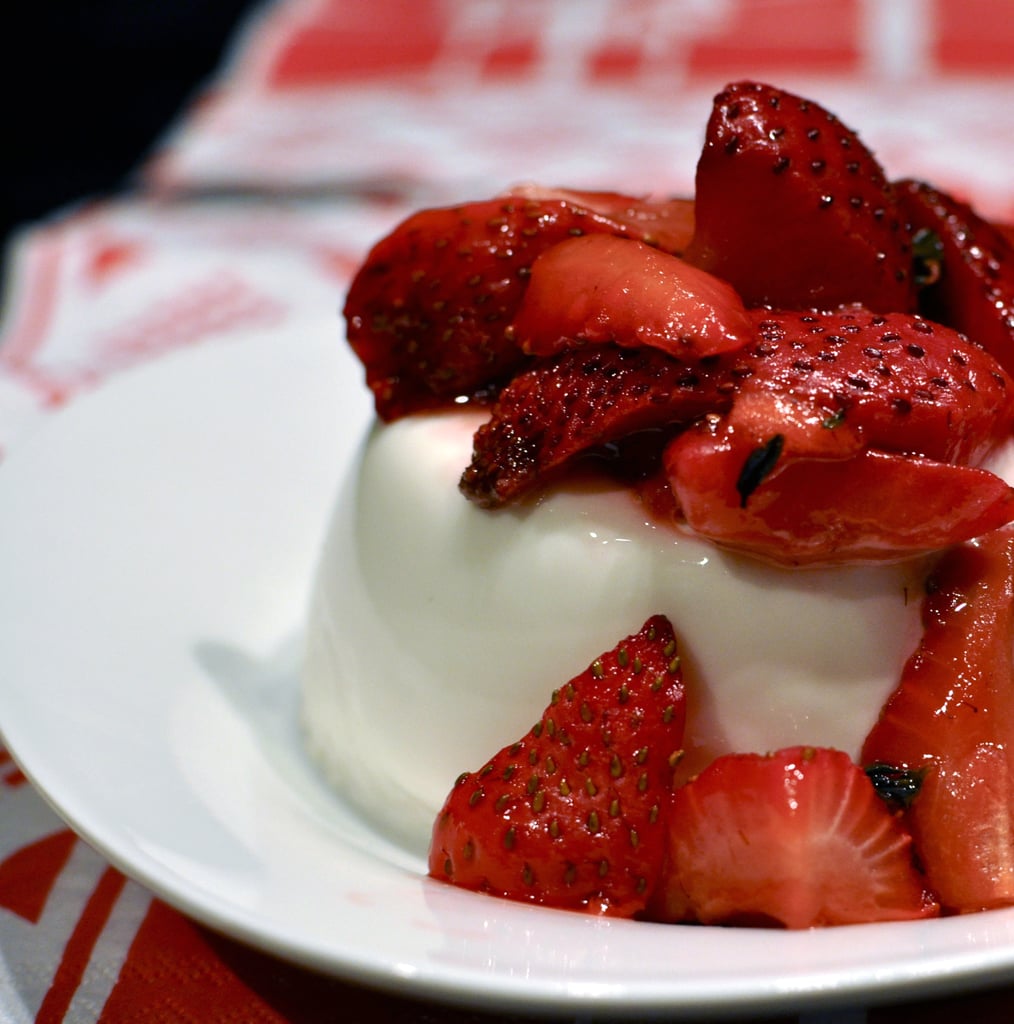 Panna cotta is a super-easy dessert to make at home that will surely impress guests! The whole process of cooking the cream and setting the gelatin takes no more than 10 minutes. The hands-off time requires a bit of patience: it takes several hours for the cream to set.
While waiting, roast the strawberries. This enhances the fruit's sweetness and a touch of thyme adds a nice earthiness. Since it can be prepared and plated ahead of time, this dessert is perfect for a dinner party.
If you have trouble getting the panna cotta out of the cups (like I did), set them in a shallow bowl of hot water to loosen the sides. Each bite of scrumptious strawberries and creamy panna cotta is light and full of flavor. Start warming up the oven to roast your strawberries and keep reading for the recipe.
Ingredients
Panna Cotta
4 cups (1l) heavy cream (or half-and-half)
1/2 cup (100g) sugar
2 teaspoons of vanilla extract, or 1 vanilla bean, split lengthwise
2 packets powdered gelatin (about 4 1/2 teaspoons)
6 tablespoons (90ml) cold water
Roasted Strawberries
3 cups quartered hulled strawberries, patted dry
6 sprigs fresh thyme, divided
1 tablespoon plus 1/4 cup sugar
1/2 teaspoon fresh lemon juice
Directions
Make the panna cotta: Heat the heavy cream and sugar in a saucepan or microwave. Once the sugar is dissolved, remove from heat and stir in the vanilla extract. (If using a vanilla bean, scrape the seeds from the bean into the cream and add the bean pod. Cover, and let infuse for 30 minutes. Remove the bean then rewarm the mixture before continuing.)
Lightly oil eight custard cups with a neutral-tasting oil, like vegetable or canola oil.
Sprinkle the gelatin over the cold water in a medium-sized bowl and let stand 5 to 10 minutes.
Pour the very warm cream and sugar mixture over the gelatin and stir until the gelatin is completely dissolved.
Divide the panna cotta into the prepared cups, then chill them until firm, which will take at least 2-4 hours. If you're pressed for time, pour the panna cotta mixture into wine goblets so you can serve them in the glasses, without unmolding.
Run a sharp knife around the edge of each panna cotta and unmold each onto a serving plate

While the panna cotta chills, roast the strawberries: preheat oven to 350°F. Place 3 cups strawberries and 6 thyme sprigs in 13x9x2-inch glass baking dish. Sprinkle with 2 tablespoons sugar and lemon juice; toss to coat. Roast uncovered until strawberries are soft and syrup forms, stirring occasionally, about 20 minutes; cool 30 minutes. Remove the thyme.
To serve, scoop the cooled roasted strawberries on top of the panna cotta.
Makes 8-10 panna cottas depending on the cup size.
Information
Category

Desserts, Puddings/Mousse

Cuisine

North American