Recipe For Smoky Corn and Black Bean Pizza
Sunday BBQ: Smoky Corn and Black Bean Pizza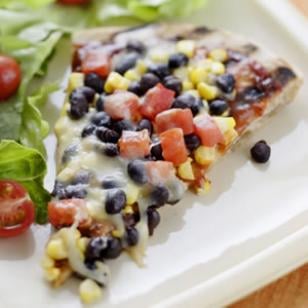 Firing up the barbecue doesn't have to be a production of epic proportions; there are measures that can be taken, just like in any other cooking method, to have something on the table in under 30 minutes. Make inexpensive Summer corn the star of the meal as the fresh topping on a wheat pizza, utilizing pantry staples like canned black beans, barbecue sauce, and smoked mozzarella to play supporting roles. It'll be ready when the toppings have melted together and the bottom's been graced with grill marks. For the recipe, keep reading.
Ingredients
1 plum tomato, diced
1 cup canned black beans, rinsed
1 cup fresh corn kernels (about 2 ears)
2 tablespoons cornmeal
1 pound prepared whole-wheat pizza dough
1/3 cup barbecue sauce
1 cup shredded mozzarella, preferably smoked mozzarella
Directions
Preheat grill to medium.
Combine tomato, beans and corn in a medium bowl. Sprinkle cornmeal onto a large baking sheet. Stretch the dough into about a 12-inch circle and lay it on top of the cornmeal, coating the entire underside of the dough.
Transfer the crust from the baking sheet to the grill. Close the lid and cook until the crust is puffed and lightly browned on the bottom, 4 to 5 minutes.
Using a large spatula, flip the crust. Spread barbecue sauce on it and quickly sprinkle with the tomato mixture and cheese. Close the lid; grill until the cheese is melted and the bottom of the crust is browned, 4 to 5 minutes.
Serves 6.
Nutritional information per serving: 316 calories; 6 g fat (3 g sat, 0 g mono); 13 mg cholesterol; 48 g carbohydrates; 3 g added sugars; 14 g protein; 4 g fiber; 530 mg sodium; 94 mg potassium.
Information
Category

Main Dishes, Pizza

Cuisine

North American