YumSugar member Tara Sharp shared this cold-weather recipe for spinach soup in the Kitchen Goddess cooking group.
In this chilly January weather, nothing warms me up more than my favorite spinach soup recipe, located on the back of Ronzoni's acini di pepe box. I grew up with my mom making it, and now that I'm re-creating it, I like to tweak it each time depending on my mood and what I have on hand. One of my favorite switch-ups is to swap the tiny pasta balls for pastina, which is little stars. In the photo above, I used pastina and a larger egg pasta star; it's really up to you what kind you use. I also used less broth than usual. Remember, everything is adaptable, so have fun with it! See the recipe below.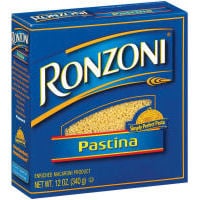 Stars and Spinach Soup
Adapted from Ronzoni
Ingredients
1/2 onion
2 garlic cloves, minced
2 tablespoons butter or margarine
1 tablespoon olive oil (optional)
1 can (46 oz.) chicken broth
1/2 cup white wine (optional)
1 cup Ronzoni acini di pepe or pastina, uncooked
1/8 teaspoon pepper
1/8 teaspoon red chili pepper flakes
Salt to taste
1 package (10 oz.) frozen chopped spinach
Directions
Cook and stir onion and garlic in hot butter and olive oil until tender but not browned.
Add wine and chicken broth and bring to a boil.
Add pasta, pepper, and pepper flakes; simmer about 5 minutes.
Add chopped spinach and simmer 5 minutes, stirring occasionally.
Season to taste with salt, if desired.
Serves 8.
Information
Category

Soups/Stews, Pasta/Noodle
Have you come across any — or come up with your own! — recipes lately? If so, be sure to post them to Kitchen Goddess. It's easy to upload your photos and a description of the experience, and it could be featured on YumSugar!