Recipe For Spring Peas With Mint
Give Peas a Chance! Try 'Em in a Fresh Mint Salad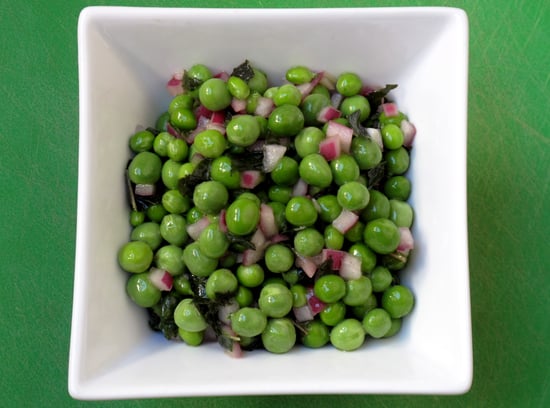 Before you shun certain fruits and vegetables for life, sample them at their peak and see if you feel the same way. Although I grew up swearing off tomatoes, all it took was a locally grown heirloom variety, plucked from the vine that very Summer morning, that convinced me that I did enjoy fresh tomatoes.
Sworn foes of the pea, I challenge you to do the same. Don't like the overly sweet, baby food-like consistency of frozen peas? You're allowed to write them off altogether — but only after you've tried a bowl of in-season, freshly shelled peas and are certain you can't appreciate the toothsome snap that comes with every bite.
Shell sweet, delicate English peas and toss them lightly with a bit of olive oil, vinegar, onion, and torn mint for a classic preparation. See if you'll become an unexpected convert when you read more.
Ingredients
2 tablespoons extra-virgin olive oil
1 tablespoon red wine vinegar
2 cups fresh baby peas or thawed frozen baby green peas
1/2 small red onion, cut into 1/4-inch dice
1 cup loosely packed mint, torn
Kosher salt and freshly ground pepper
Directions
In a bowl, whisk the olive oil with the vinegar. Add the peas, red onion and mint and toss to coat. Season with salt and pepper and let stand at room temperature for 1 hour. Transfer to a platter and serve.
Serves 6.
Information
Category

Vegetables, Side Dishes

Cuisine

North American