Recipe for Spring Vegetable Soup
Monday's Leftovers: Springtime Vegetable Soup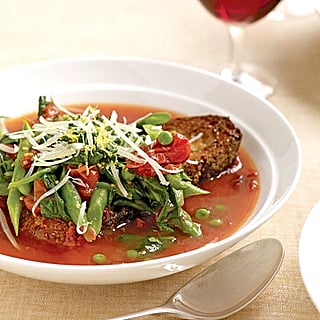 Once Spring takes root, it's easy to relegate soups and stews to the harsh Winter months just past. But don't rule them out just yet. This season's vegetables breathe new life into soups, which come together quickly and easily as a well-rounded meal in well under an hour. Build on the flavor of roasted tomatoes with leftover asparagus, green beans, and scallions; feel free to add in any other firm vegetables you have on hand. Serve sprinkled with parmigano-reggiano and crusty bread for dipping. For the flexible, healthy recipe, read more.
Springtime Vegetable Soup
Ingredients
1 pint grape tomatoes
3 tablespoons extra-virgin olive oil, plus more for drizzling
Salt and pepper
Four 1-inch-thick slices crusty bread
1 clove garlic
1 bunch asparagus, sliced on an angle into 1-inch pieces
4 scallions, sliced on an angle into 1-inch pieces
1/4 pound green beans, sliced on an angle into thirds
4 cups baby spinach, coarsely chopped
5 cups chicken or vegetable broth
1 cup frozen peas, thawed
2 tablespoons chopped fresh parsley
2 teaspoons grated lemon peel
Grated parmigiano-reggiano
Directions
Preheat the oven to 400°. On a rimmed baking sheet, toss the tomatoes with 1 tablespoon oil and salt and pepper to taste. Roast for 15 minutes. Let cool, then mash.
Preheat the broiler, then toast the bread. Rub with the garlic and drizzle with more olive oil.
In a large skillet, heat the remaining 2 tablespoons oil, 2 turns of the pan, over medium-high heat. Add the asparagus, scallions and green beans; season with salt and pepper. Cook until the scallions are softened, 2 minutes. Add the spinach and cook until wilted, 1 minute. Add the broth and peas and simmer until heated through, 5 to 7 minutes. Stir in the mashed tomatoes.
To serve, put 1 toast in each of 4 bowls, pour the soup on top and sprinkle with the parsley and lemon peel. Pass the cheese around the table.
Serves 4.
Information
Category

Main Dishes, Soup