Recipe For Thai Ground Pork Salad
Monday Leftovers: Thai Ground Pork Salad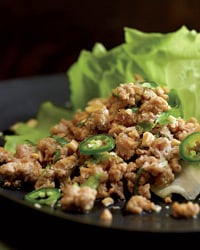 If you gave the barbecued pork burger recipe a shot yesterday, you may have some leftover ground pork on your hands.
Here's a sweet and spicy salad — lettuce wrap style — that utilizes the weekend's meaty leftovers but won't weigh you down after a beer and BBQ-filled Father's Day.
Get the recipe after the jump.


Ingredients
2 pounds ground pork
2 garlic cloves, minced
2 small shallots, minced
1 large jalapeño, seeded and minced, plus sliced jalapeño for garnish
Juice of 1 lime, plus lime wedges, for serving
2 tablespoons Asian fish sauce
1 teaspoon light brown sugar
1 teaspoon Sriracha (chile sauce), plus more for serving
1 tablespoon vegetable oil
1/2 cup chopped cilantro
1/2 cup chopped mint
1/2 cup chopped basil
Salt and freshly ground pepper
1 cup chopped salted peanuts
1 large head Boston or other leafy lettuce, separated into leaves
Directions
In a bowl, mix the pork, garlic, shallots and minced jalapeño. In a small bowl, whisk the lime juice, fish sauce, brown sugar and the 1 teaspoon of Sriracha.
In a skillet, heat the oil. Add the pork mixture and cook over high heat, stirring to break up the meat, until no pink remains, 5 minutes. Remove from the heat and stir in the lime juice mixture. Let stand for 5 minutes. Transfer the meat to a bowl; stir in the herbs. Season with salt and pepper. Top with the peanuts and sliced jalapeños. Serve with lime wedges, Sriracha and lettuce for wrapping.
Serves 6.
Information
Category

Meats, Salads

Cuisine

Other Asian