 I love sandwiches born out of serendipity — when a handful of ingredients you happen to have on hand comes together in perfect combination. Sometimes, you enjoy them just once, but often, these spur-of-the-moment creations become sandwiches you make again and again. Such is the case with this turkey sandwich, served on rustic Italian bread I bought to serve with soup, manchego cheese leftover from a dinner party, and some pear butter homemade by a fellow Sugar staffer.
Turkey is my go-to sandwich protein, from my daily turkey delights to more clever and decadent creations. So I'm always looking for creative twists on the basic turkey sammie. Since manchego cheese is often served with quince paste to complement its sharp, salty flavor, I paired it with the sweet, spiced pear butter. If you're not lucky enough to have homemade pear butter on hand, apple butter is just as tasty. Slightly bitter watercress makes a great green garnish against the hearty bread. To get the recipe,
.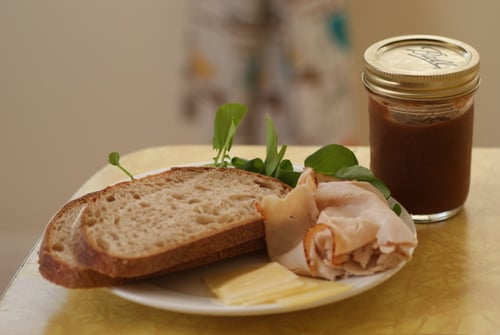 Turkey Sandwich With Manchego Cheese and Pear Butter
Original recipe
Ingredients
2 slices of rustic Italian bread, about 1/2 an inch thick
2 tablespoons pear or apple butter
2 slices smoked turkey
3 slices of manchego cheese, thinly sliced
1 tablespoon Dijon mustard
1/4 cup watercress
Directions
Preheat oven to 300°F.
Place the two slices of bread on a baking sheet. Spread about 1 1/2 tablespoons of pear or apple butter on one of the slices.
Place the turkey slices on top of the pear butter, then top with cheese.

On the other piece of bread, spread a thin layer of pear butter, followed by the Dijon mustard.

Place both slices in the oven for about 5 minutes, until cheese has just started to melt.
Remove from the oven and arrange the watercress over the cheese. Cover with mustard-coated bread slice.

Cut in half and serve immediately.
Makes one sandwich.
Information
Category

Main Dishes, Sandwiches