Recipe For Warm Eggplant Sandwich With Mint, Feta, and Hummus
'Wich of the Week: Minty Greek Eggplant and Feta I know I made a sandwich with eggplant just two weeks ago, but such is the life of a home cook: I had an extra eggplant sitting around that I had to find a use for! So I improvised this totally different — and in my opinion, even more delicious — Greek-inspired sandwich.
Needing to cook the eggplant ASAP, I roasted it on a Sunday and made the sandwich the next day; if you make the eggplant in advance, this simple sandwich comes together in just over five minutes. The slightly sweet, balsamic-roasted eggplant stacks up beautifully next to warm, salty feta. Thin strips of mint and a slather of hummus make it even more complex and rich. To get the recipe and lots more photos,
.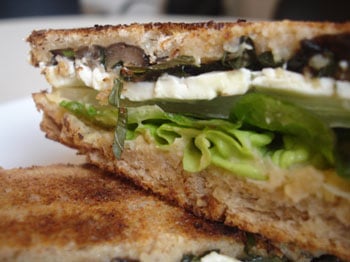 Eggplant, Mint, and Feta Sandwich
Original Recipe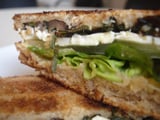 Ingredients
1 medium eggplant, sliced into 1/2-inch thick rounds
2 tablespoons olive oil
2 tablespoons balsamic vinegar
salt and pepper, to taste
8 slices wheat bread
1/2 cup hummus
12 slices of feta cheese, about 1/4-inch thick
1 cup mint leaves, julienned
4 pieces of red leaf lettuce
Directions
Prepare eggplant: Preheat oven to 450°F. In a small bowl, combine olive oil and vinegar and season with salt and pepper. Lay eggplant rounds on a baking sheet and, using a brush, coat each piece with the olive oil mixture, flip the eggplant, and brush the remaining sides. Bake the eggplant for 20-25 minutes, turning once. Remove and let cool. (Note: eggplant can be prepared up to one day in advance.)

To make each sandwich, spread 1 tablespoon of hummus on a slice of bread. Divide the eggplant by four, and top each hummus-coated bread slice with eggplant. Cover eggplant with 1/4 cup of mint, and place three slices of feta cheese on top.

Place the ingredient-covered slice and a second slice of bread in a toaster oven on high until the bread is lightly browned and the cheese has softened.

Place a lettuce leaf over the feta, and spread one tablespoon of hummus on the remaining slice of toast. Place hummus-side down onto lettuce to close the sandwich, cut in half, and serve.
Makes 4 sandwiches.
Information
Category

Main Dishes, Sandwiches

Cuisine

Greek