 When I saw this recipe for a warm strawberry crumb cake in the current issue of Food and Wine magazine, I instantly knew I had to try it! With its plump juicy berries, this cake screams Spring — making it the perfect finish to any Easter meal. In the recipe, fresh strawberries are tossed with sugar, lemon juice, and vanilla. A smooth cake batter tops the berries and a brown sugar butter crumble covers the batter. The final result is a scrumptious, yet homey dessert. Although there are several components, the entire cake can be made the day before the celebration. To add this dish to your repertoire,
.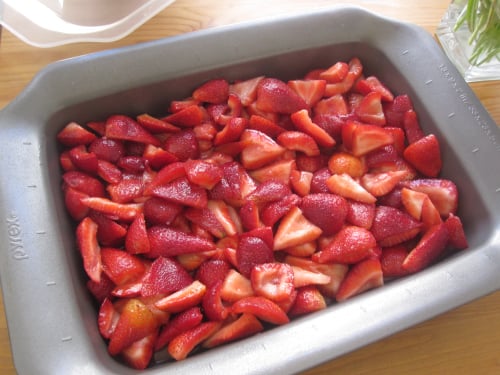 Ingredients
For the filling
3 pounds strawberries, hulled and halved (8 cups)
1/2 cup sugar
2 tablespoons freshly squeezed lemon juice
2 1/2 tablespoons cornstarch dissolved in 2 1/2 tablespoons of water
1 vanilla bean, split and seeds scraped
For the crumb topping:
1/2 cup lightly packed light brown sugar
1/2 cup plus 2 tablespoons all-purpose flour
Pinch of salt
4 tablespoons unsalted butter, cubed and chilled
For the cake:
2 1/4 cups all-purpose flour
1 tablespoon baking powder
3/4 teaspoon salt
1 stick unsalted butter, softened
1 1/4 cups sugar
3 large eggs
1 1/2 teaspoons pure vanilla extract
3/4 cup buttermilk
Directions
Make the filling: Preheat the oven to 350°.
In a large bowl, toss the strawberries with the sugar, lemon juice, cornstarch slurry and vanilla seeds and let stand until the berries release some of their juices, about 30 minutes.
Pour the fruit filling into a 9-by-13-inch glass or ceramic baking dish set on a sturdy baking sheet.
Meanwhile, make the crumb topping: In a medium bowl, mix all of the ingredients with your fingers until a coarse meal forms; press into small clumps.
Make the cake: In a medium bowl, whisk the flour with the baking powder and salt. In a large bowl, using a handheld electric mixer, beat the butter with the sugar at medium-high speed until light and fluffy, about 3 minutes.
Add the eggs, one at a time, beating well between additions. Beat in the vanilla extract and scrape down the bowl.
Add the dry ingredients to the batter in 3 additions, alternating with the buttermilk.
Spoon the batter over the fruit filling, spreading it to the edge. Sprinkle with the crumb topping.
Bake in the center of the oven for 1 hour and 15 minutes, until the fruit is bubbling, the crumb topping is golden and a toothpick inserted in the center of the cake comes out with a few moist crumbs attached. Transfer to a rack to cool slightly.
Serve the crumb cake warm or at room temperature with vanilla ice cream.
Serves 8.
Make ahead: the crumb cake can be refrigerated overnight. Serve warm or at room temperature.
Information
Category

Fruit, Desserts