Recipe For White Beans With Andouille Sausage
Sunday Slow Cooker: White Beans With Andouille Sausage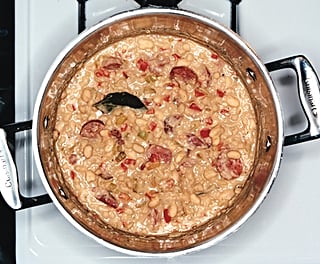 I've always cooked with canned beans over higher-maintenance dried beans, but after seeing PartySugar make a beef chili that required no preliminary bean soaking, I decided it was high time I followed in her footsteps.
The perfect place to start? A simple, yet flavorful Cajun stew of andouille sausage, veggies, and Great Northern beans that requires no soaking whatsoever.
Just pop it into the slow cooker, wait four and a half hours, and serve! I'll enjoy it with some dirty rice and sautéed greens. Interested? Then keep reading.
White Beans With Andouille Sausage
Adapted from Bon Appétit
Ingredients
3-1/4 cups (or more) water
12 ounces dried Great Northern beans (about 1 3/4 cups), rinsed
1 smoked ham hock (8 to 9 ounces)
1-1/2 ounces andouille sausage, finely diced (generous 1/3 cup)
1 small onion, chopped
2 large celery stalks, chopped
1 small red bell pepper, diced
2 medium garlic cloves, chopped
2 bay leaves
Directions
Stir 3 1/4 cups water and all remaining ingredients in large slow cooker. Cover and cook on high until beans are tender, stirring occasionally and adding more water if dry, about 4 1/2 hours.
Remove ham hock. Cut off all meat; shred and return to beans. Season to taste with salt and pepper.
Makes 8 servings.
Information
Category

Soups/Stews, Bean

Cuisine

Cajun/Creole