When it comes to expensive sandwiches, I'm rarely disappointed with 'Wichcraft. Though the creations are somewhat pricey, they're also well-made, and when the ingredients are surprising, I'll totally shell out the cash. Though now that 'Wichcraft's Tom Colicchio and Sisha Ortuzar have released a cookbook, I can save my money and make the recipes at home. Lucky for you, I just got my hands on the cookbook, and I have the recipe for the latest 'wich I grabbed at 'Wichcraft: the reasonably priced ($6.95) chopped chickpeas with roasted red peppers, black olives, lemon confit, and parsley on country bread. Though I love the anchovy and egg sandwich with a consuming passion, I decided to try something new on my last trip, and I wasn't disappointed. To find out how to make it,
. The country bread that 'Wichcraft uses is just perfect: crusty on the outside but with a soft, friendly give. I thought "chopped chickpeas" would just mean hummus, so I was pleasantly surprised by this spread, which is really more of a chickpea salad. Though making the chickpeas and lemon confit from scratch sounds like a lot of trouble, it could also be done far in advance, and the sandwich itself is quite simple.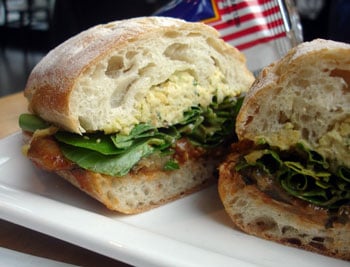 Ingredients
2 cups marinated chickpeas
8 slices country bread
1/2 cup roasted red peppers
4 tablespoons pitted and chopped Nicoise olives
12 slices lemon confit
1 cup flat-leaf parsley leaves
Freshly ground black pepper
Directions
In a food processor, coarsely chop the marinated chickpeas, until they're spreadable but still chunky. Evenly spread the chickpeas over 4 of the bread slices.
Top with the roasted peppers, olives, lemon confit, and parsley, in that order, and season with pepper.
Top with the remaining 4 slices of bread, cut into halves, and serve.
Makes 4 sandwiches.
Information
Category

Main Dishes, Sandwiches

Cuisine

Mediterranean/Middle Eastern