Recipes and Menu For Apple Themed Dinner
Come Party With Me: Apples to Apples — Menu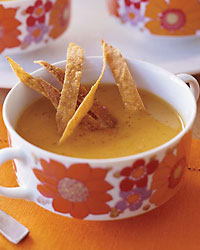 Have you ever played Apples to Apples? The wildly entertaining game that's all about words and comparisons? It's my new favorite party game — I love it so much that I'm joining forces with FabSugar to host an Apples to Apples party! Fab's inviting equal amounts of boys and girls to her house, and I'm in charge of the food and drinks. Each item on the menu includes (no surprises here) apples! Since the party is on a Thursday evening, I'll keep things simple by serving two dishes that can be made in advance. Guests can help themselves to sausage, fennel, and apple skewers or fill a mug with steaming sweet potato, chipotle, and apple soup.
These apple recipes would be fun at any Winter-themed dinner so get them now after the break.
Sausage, Fennel, and Apple Skewers
Ingredients
3 tablespoons extra-virgin olive oil
1 teaspoon finely chopped rosemary
Salt
1 1/2 pounds smoked sausage links, sliced crosswise into 1-inch pieces
2 bulbs fennel, cut into 1-inch pieces
2 gala apples, cored and cut into 3/4-inch-thick wedges
Directions
In a large bowl, stir together the olive oil, rosemary and 1/4 teaspoon salt. Add the sausage, fennel and apples and toss to coat.
Position a rack 5 inches beneath the broiler; preheat. Thread the sausage, fennel and apples onto metal skewers; arrange on baking sheets in a single layer. Broil, turning once, until lightly browned, 10 to 15 minutes.
Serves 6.
Information
Category

Main Dishes, Pork

Cuisine

North American
Sweet Potato, Chipotle, and Apple Soup
From Food & Wine
Ingredients
2 tablespoons vegetable oil, plus 1 cup for frying
1/2 medium white onion, finely chopped
2 garlic cloves, smashed
1 teaspoon finely grated fresh ginger
2 Gala apples—peeled, seeded and coarsely chopped
1 celery rib, thinly sliced crosswise
1 3/4 pounds sweet potatoes, peeled and thinly sliced
1 quart chicken stock or low-sodium broth
3 cups water
1 small canned chipotle in adobo sauce, seeded and minced
Salt and freshly ground white pepper
1/2 teaspoon cinnamon
1/2 teaspoon sugar
3 yellow corn tortillas, cut into 1/2-inch strips
Directions
In a medium soup pot, heat 2 tablespoons of the oil until shimmering. Add the onion, garlic and ginger and cook over low heat, stirring, until softened, about 7 minutes.
Add the apples and celery and cook for 5 minutes. Add the sweet potatoes and cook for 5 minutes. Add the chicken stock and water and bring to a boil. Cover partially and simmer over low heat until the fruit and vegetables are very tender, about 45 minutes. Stir in the chipotle.
Working in batches, puree the soup in a blender until smooth. Season with salt and white pepper and return to the pot.
In a small bowl, mix the cinnamon and sugar with 1/2 teaspoon of salt.
Heat the remaining 1 cup of oil in a medium skillet. Add the tortilla strips and fry over high heat, stirring, until crisp and golden, about 2 minutes. Drain on paper towels and sprinkle with the cinnamon-sugar mixture.
Serve the soup in shallow bowls and garnish with the fried tortilla strips.
Serves 6.
Information
Category

Other, Soups/Stews

Cuisine

Mexican