We scoured the web looking for enticing and novel uses of drugstore candy bars, perfect for using up your leftover Halloween [1] candy stash. Be warned: these treats aren't messing around. Side effects of flipping through this roundup may include hunger pangs, nostalgia, and an overwhelming impulse to get baking.
Chocolate Mousse Cheesecake With M&M's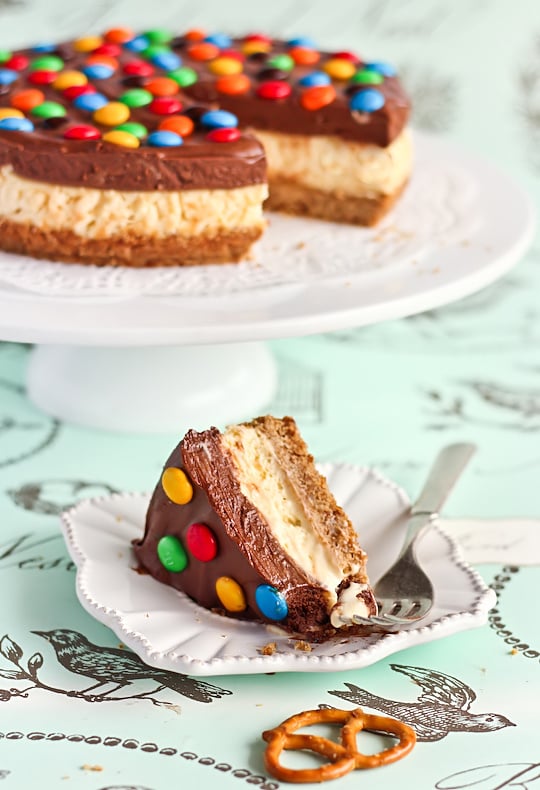 What's not to love about a dessert that incorporates chocolate mousse, cheesecake M&M's, and a salty pretzel crust [2]? To take things to the next level, swap out pretzel M&M's for the classic variety.
Reese's Peanut Butter Cup Blondies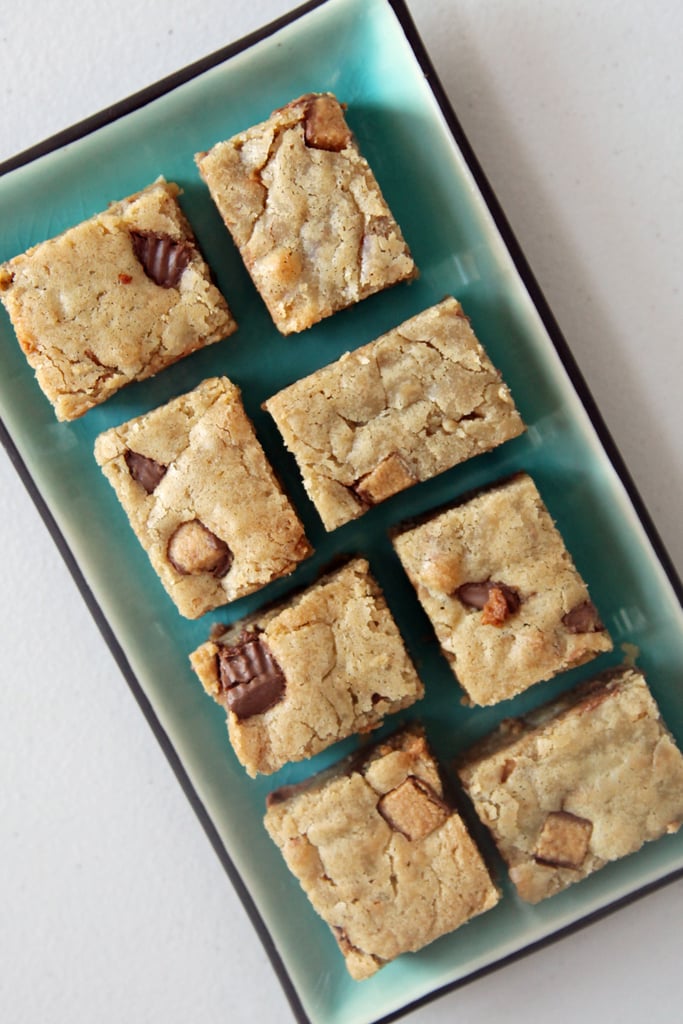 You've been warned: these chewy, tender peanut butter cup blondies [3] won't last long.
Pumpkin Spice Chex Mix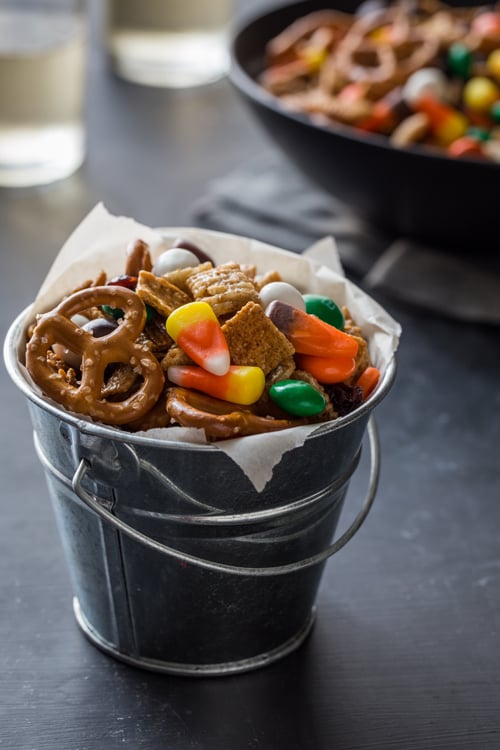 Like a little salt with your sweet? Try this clever take on Chex Mix [4], which incorporates candy of all sorts.
Candy Sushi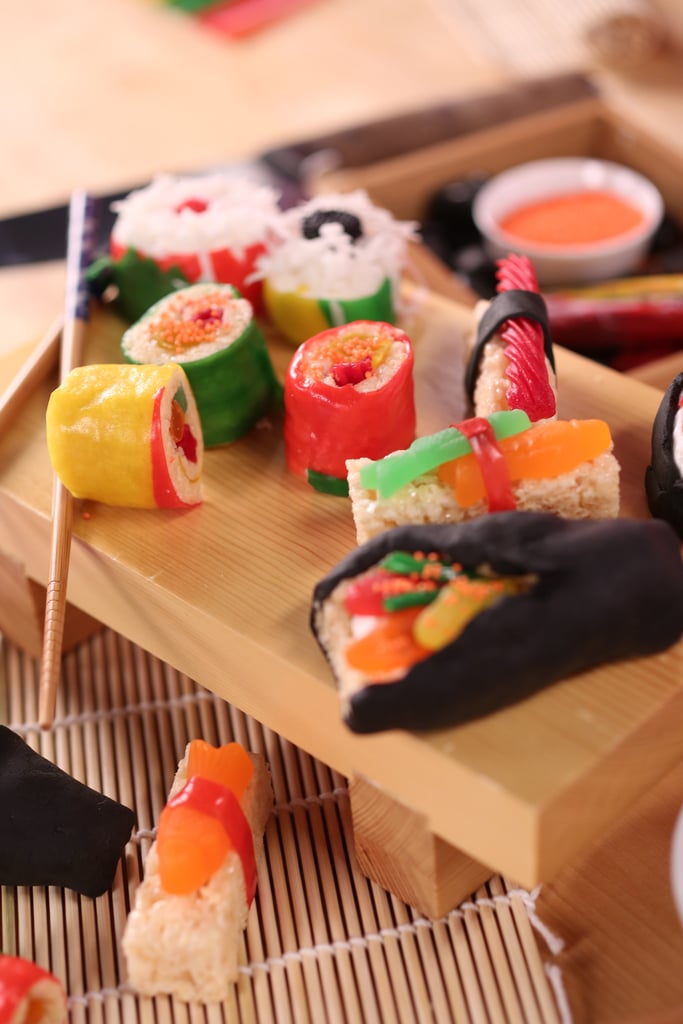 For a sweet take on sushi [5], try this adorable recipe that takes a base of marshmallow treats (the sushi rice, if you will) and decks it out with toppings like Swedish Fish, Twizzlers, and gummy worms. Fruit Roll-Ups serve as a great stand-in for nori.
Candy Corn Cupcakes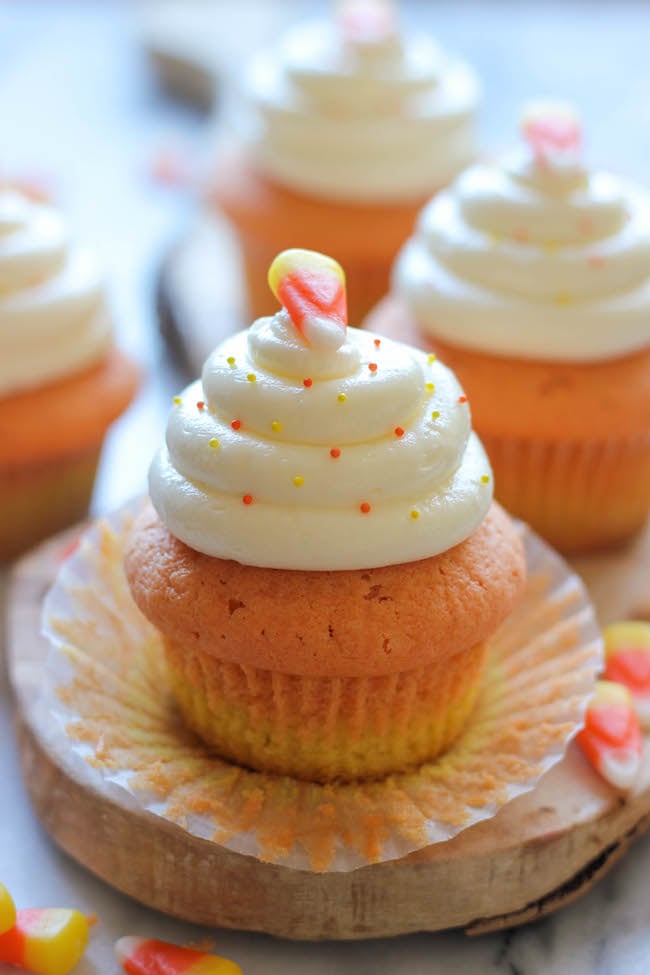 Part cookie, part craft project, all delicious: get creative juices flowing with this creative and almost (dare we say it?) elegant take on candy-corn-topped cupcakes [6].
Reese's Stuffed Pretzel Brownies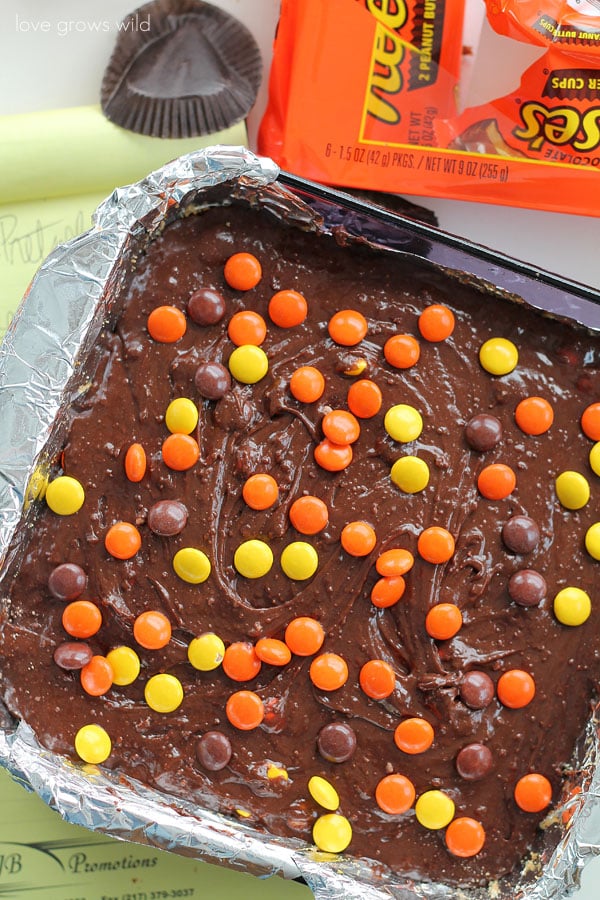 What do a Reese's Pieces and peanut butter cups have in common (besides being equally delicious)? They're the star ingredients in this peanut butter-chocolate brownie goodness [7]. Heaven!
Toffee Chocolate Chippers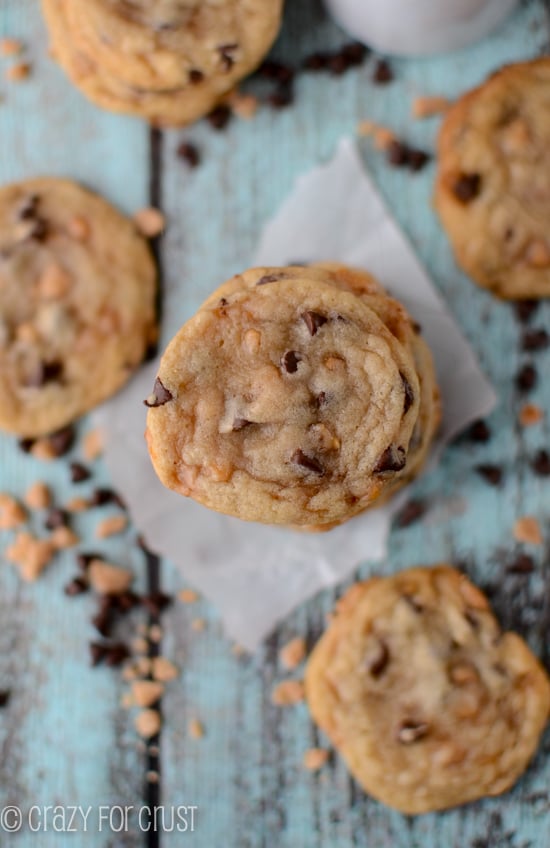 Just imagine biting into one of these toffee chocolate chippers [8] with a crunchy exterior and gooey center. One look at the recipe and you'll want to head to the grocery store to buy some Heath toffee bars stat.
Sweet and Salty Chocolate Bark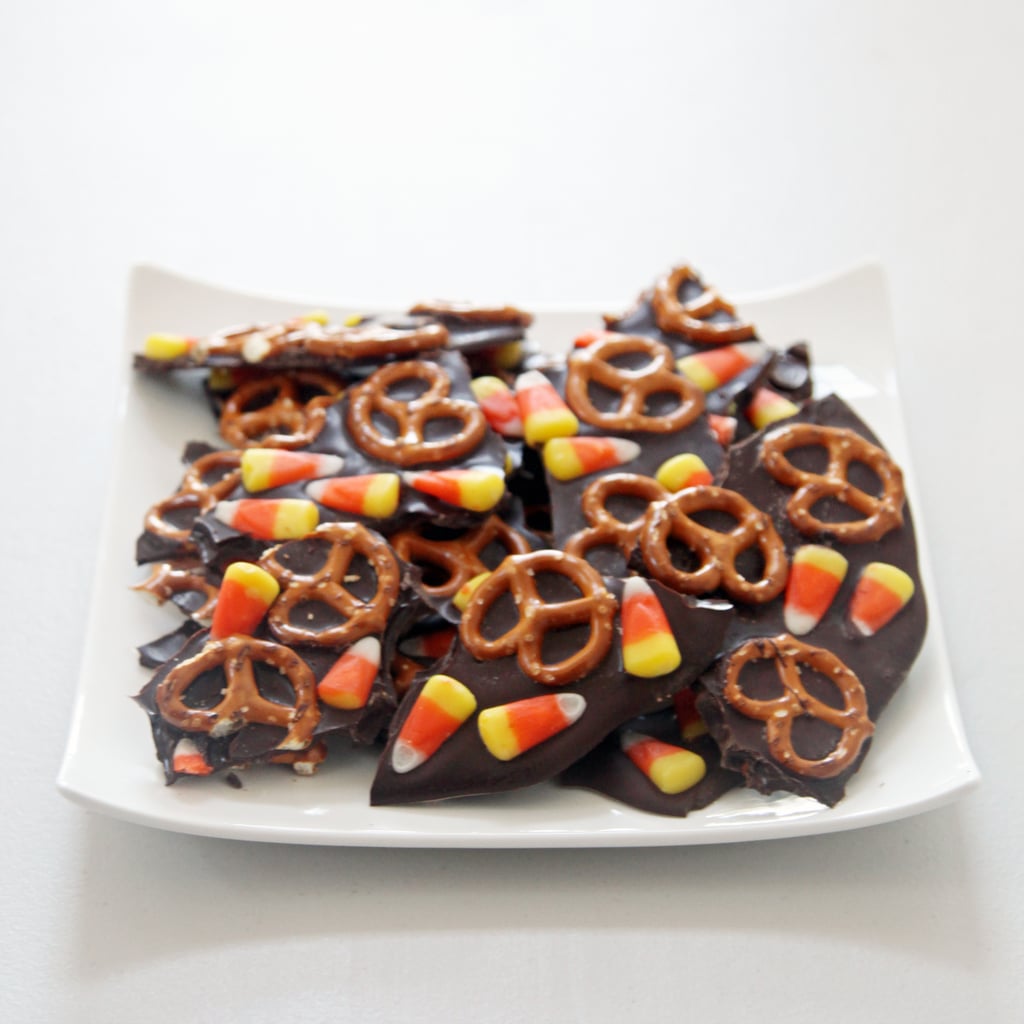 If you're a sucker for sweet-salty combos, then you're sure to fall heads-first for this sweet and savory chocolate bark [9] made of candy corn and pretzels.
Take 5 Cupcakes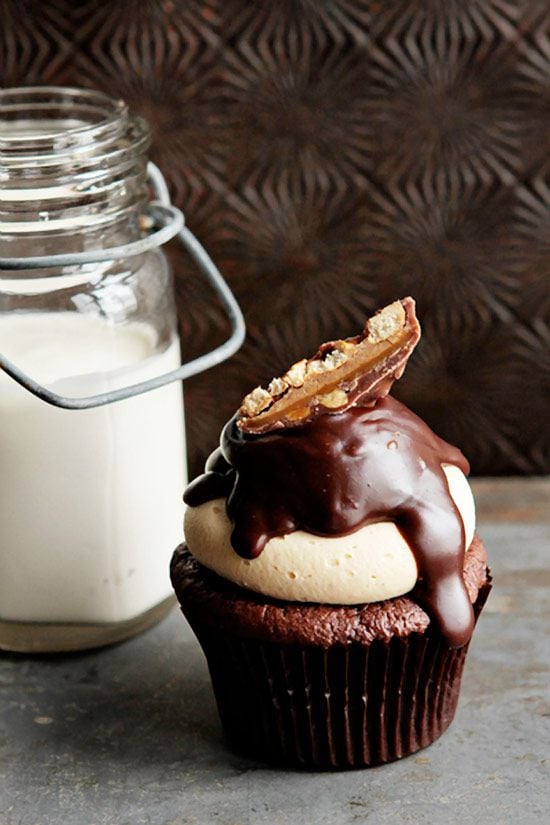 Over-the-top doesn't quite do these Take 5-inspired (and -topped) cupcakes [10] justice.
Movie Theater Popcorn Cake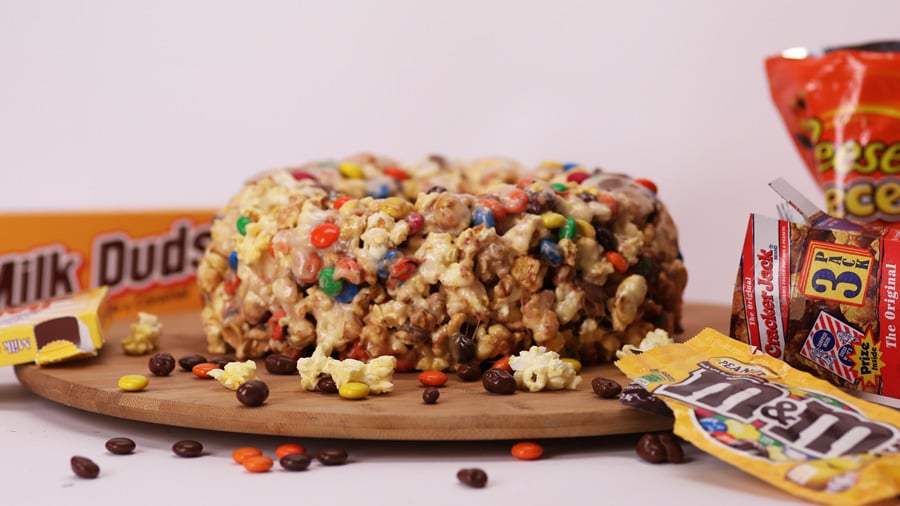 Essentially a giant marshmallow treat made from movie-theater favorites including popcorn, M&M's, and Raisinets, this sweet and salty "cake" [11] is crunchy, candy laden, and crush worthy.
Fudgy Rolo Brownie Cookies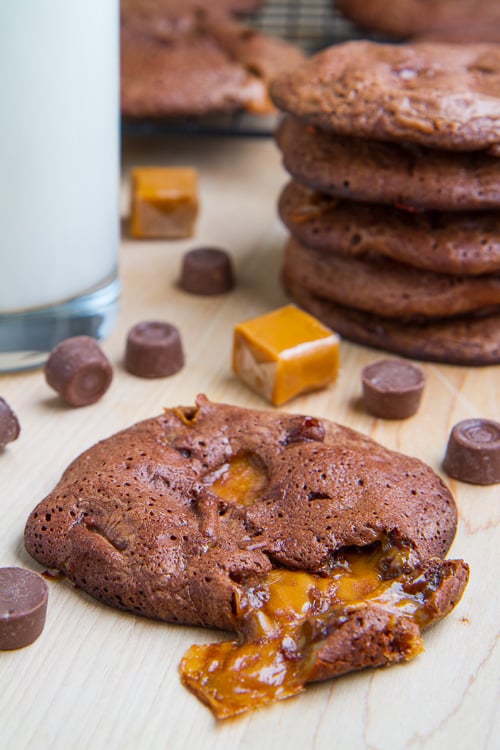 Rolo caramels — check. Chocolate chips — double check. Guess what? You're well on your way to making some scrumptious brownie cookies [12] in just over an hour.
Candy-Covered Cookies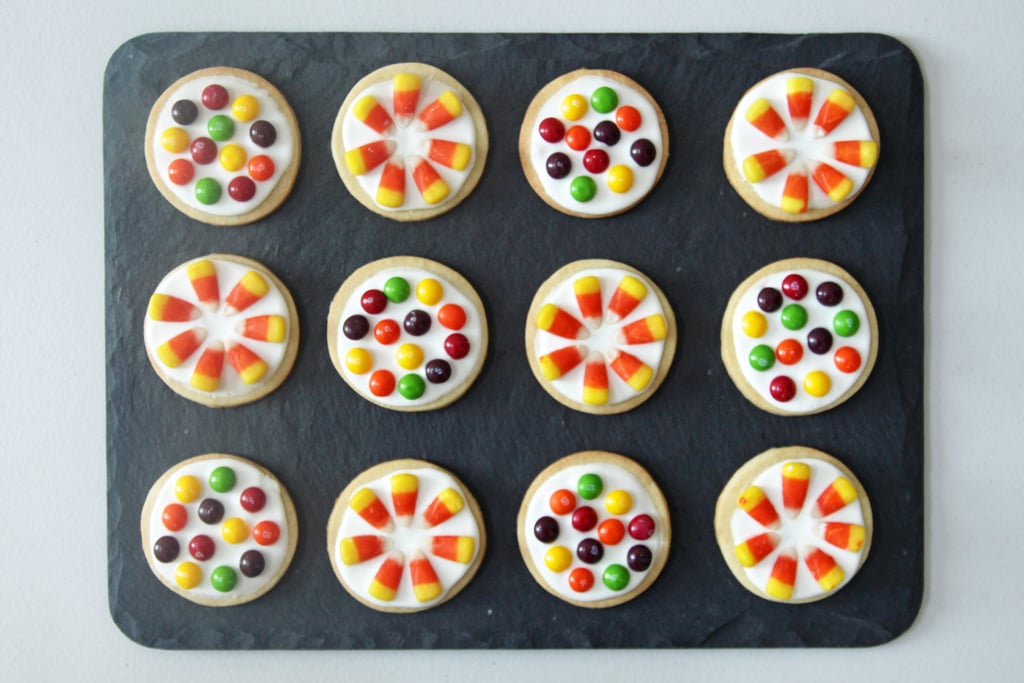 Choose cheerily-colored sweets like Skittles, Nerds, or candy corn to make eye-catching candy-covered cookies [13].
Andes Mint Pudding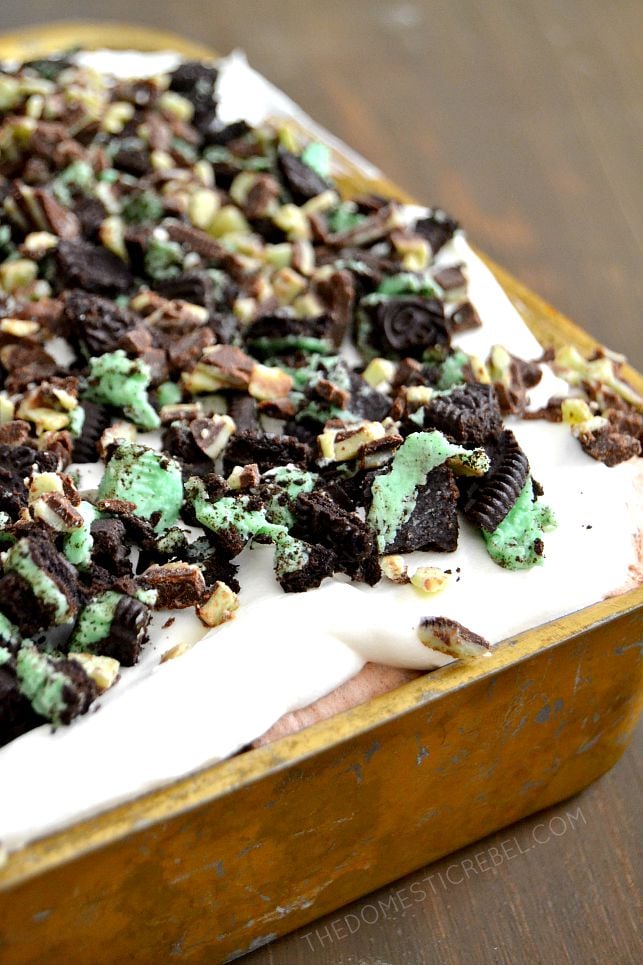 Question: is there such a thing as too many chocolate recipes? Answer: never. This minty pudding [14] gets an unexpected twist with Andes mints and mint-flavored Oreos garnished over the top for a minty taste.
Candy Corn Pretzel Bark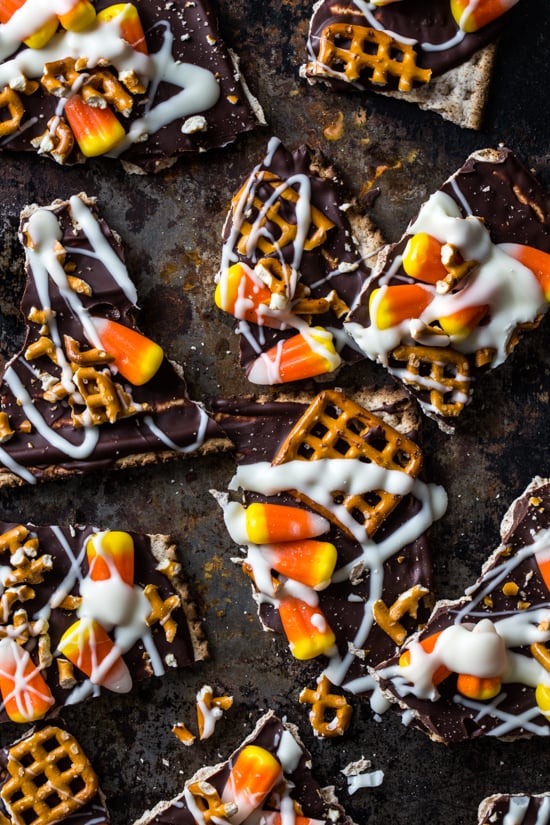 Try this over-the-top but easy no-bake candy corn pretzel bark [15] for a salty-sweet fix in a pinch. Bonus: they're infinitely customizable. Incorporate your favorite candy in addition to (or in lieu of) candy corn, such as mini Milky Way bars, Snickers, plain chocolate, and the like.
Snickers Chocolate Chip Cookie Bars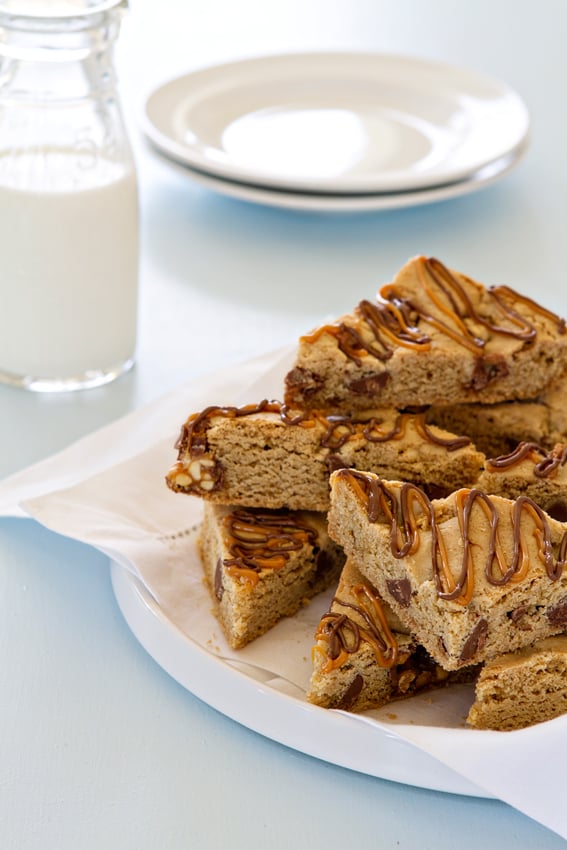 Butter pairs up with chunks of Snickers bars (let your imagination run wild) for a satisfying cookie bar [16].
Butterfinger Rice Krispies Treats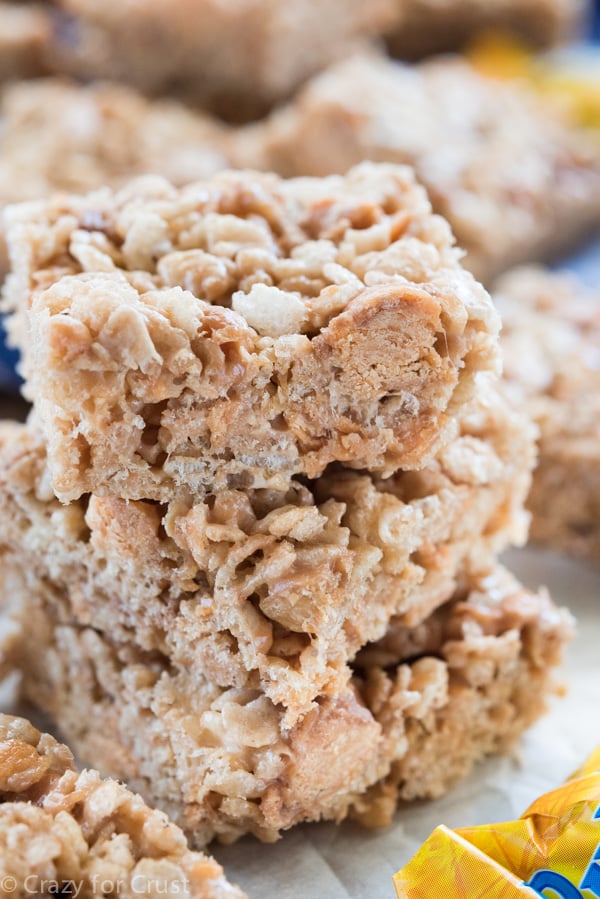 We like to think of Rice Krispies treats as a blank slate. This version of the classic bake-sale treat [17] incorporates Butterfingers.
Twix and Salted Caramel Cookie Bars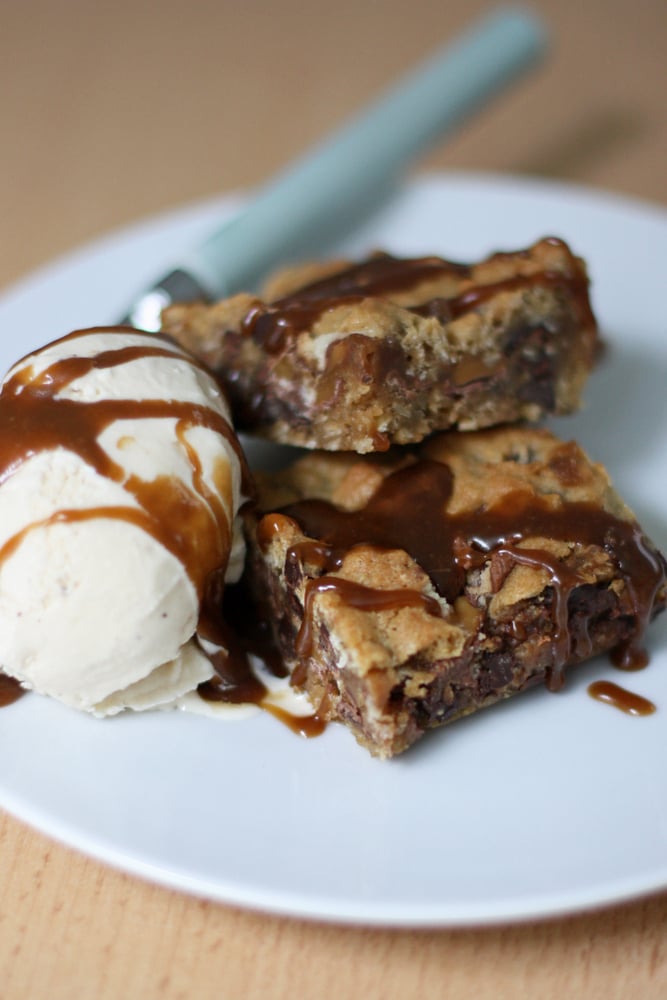 A brown sugary batter plays nicely with caramel and even more chocolate in these Twix cookie bars [18].
Monster Cookies
For a twist on the classic M&M's cookie, try these monster cookies [19], chock-full of peanut butter and oatmeal.
Butterfinger Cookies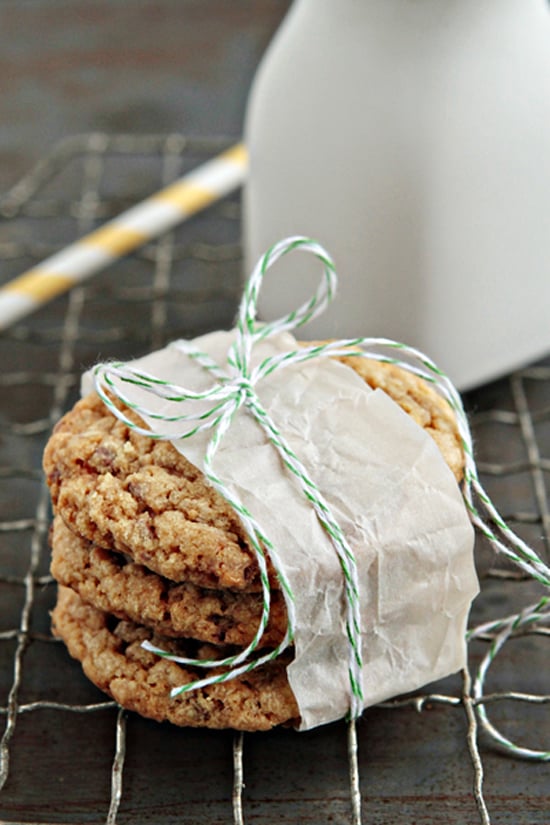 Nutty, chunky peanut butter is the star in these decadent Butterfinger cookies [20].
Snickers Brownie Bites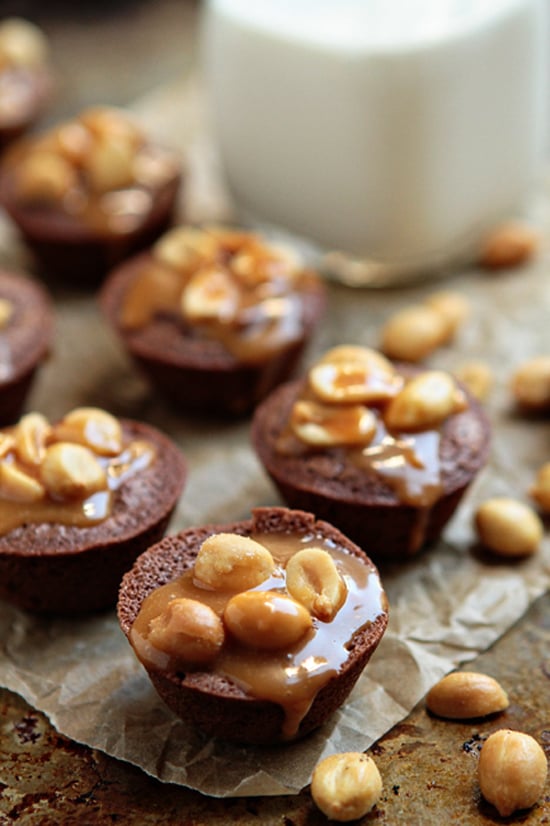 The gooey-crunchy caramel and peanut topping on these charming brownie bites [21] belies chunks of the perennially popular Snickers bar within.
Trick-Or-Treat Overload Bars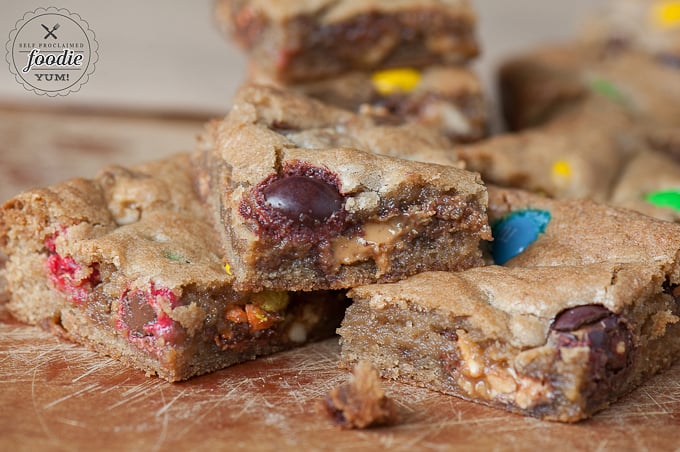 Craving a weekend project with bite? Look no further than these overload bars [22] filled with every kind of leftover Halloween [23] candy under the sun, including Sour Patch Kids and Smarties.
Heath Bar Crunch Cupcakes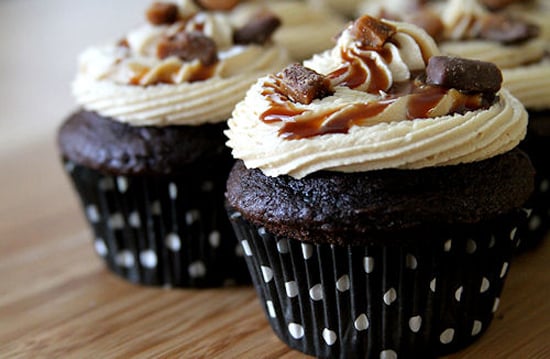 Toffee lovers will go ballistic over these enticing chocolate cupcakes [24] filled (and topped) with bits of buttery Heath Bar and caramel sauce.
M&M Cookie Dough Ice Cream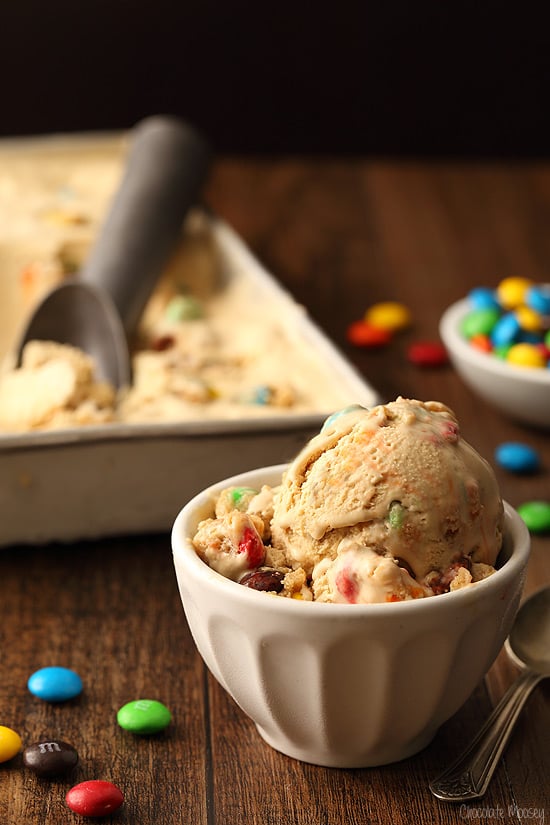 If this isn't the ultimate Halloween [25] treat, we don't know what is. Grab a bag of M&M's (or any other candy-coated chocolates), mix with cookie dough and a brown sugar ice cream, and ta-da! You've got some homemade ice cream [26] that won't last very long.