Red Pepper Cheese Crostini Is Easy, Fast, and Delicious App
I'm not from the South, but I have always considered pimento cheese to be an oddly glamorous appetizer. The ingredients are simple, but the flavor combination sublime. When I saw sausage master Bruce Aidells's sophisticated makeover of this Southern classic in the December issue of Bon Appétit magazine, I knew I had to make it. I spent most of yesterday in the kitchen prepping for today's feast, and this crostini made a delightful snack to munch on. It's not too rich, cheesy but spicy, and easy to put together, making it a great last-minute Thanksgiving appetizer. To get the recipe,
.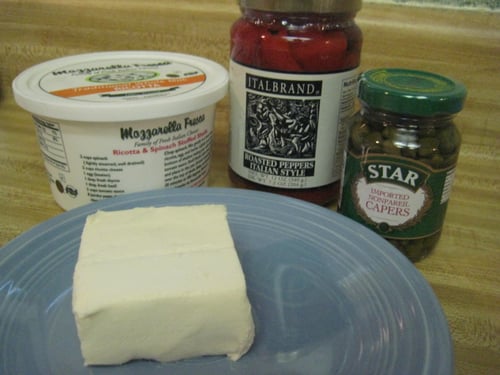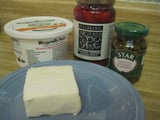 Ingredients
1/2 cup coarsely chopped drained piquillo peppers or roasted red peppers from jar
1/4 cup chopped green onions (green part only)
2 teaspoons drained capers
2 teaspoons sweet or hot smoked Spanish paprika*
1 garlic clove, peeled
1 cup whole-milk ricotta cheese
4 ounces cream cheese, room temperature (about 1/2 cup)
1/2 cup freshly grated Parmesan cheese
1 tablespoon extra-virgin olive oil plus additional for brushing
1 baguette, cut into 1/2-inch-thick rounds
Directions
Combine first 5 ingredients in processor. Blend until almost smooth.
Add all cheeses and 1 tablespoon oil; process until blended. Transfer to small bowl; season with salt and generous amount of pepper.
Preheat oven to 375°F. Arrange baguette slices in single layer on large rimmed baking sheet; brush slices with oil. Bake until golden at edges, about 15 minutes. Place bowl with cheese spread in center of platter. Surround with toasts.
Serves 10.
Make ahead: The cheese pimento mixture can be made 2 days ahead. Cover and chill. The crostini can be made 6 hours ahead. Let stand at room temperature.
* Sweet smoked Spanish paprika (sometimes labeled Pimentón Dulce or Pimentón de La Vera Dulce) and hot smoked Spanish paprika (sometimes labeled Pimentón Picante or Pimentón de La Vera Picante) are available at specialty foods stores and from tienda.com. Sweet smoked paprika (labeled "smoked paprika") can be found at some supermarkets.
Information
Category

Appetizers, Crostini