Reine de Saba Recipe
Reine de Saba: A Cake Fit For a Queen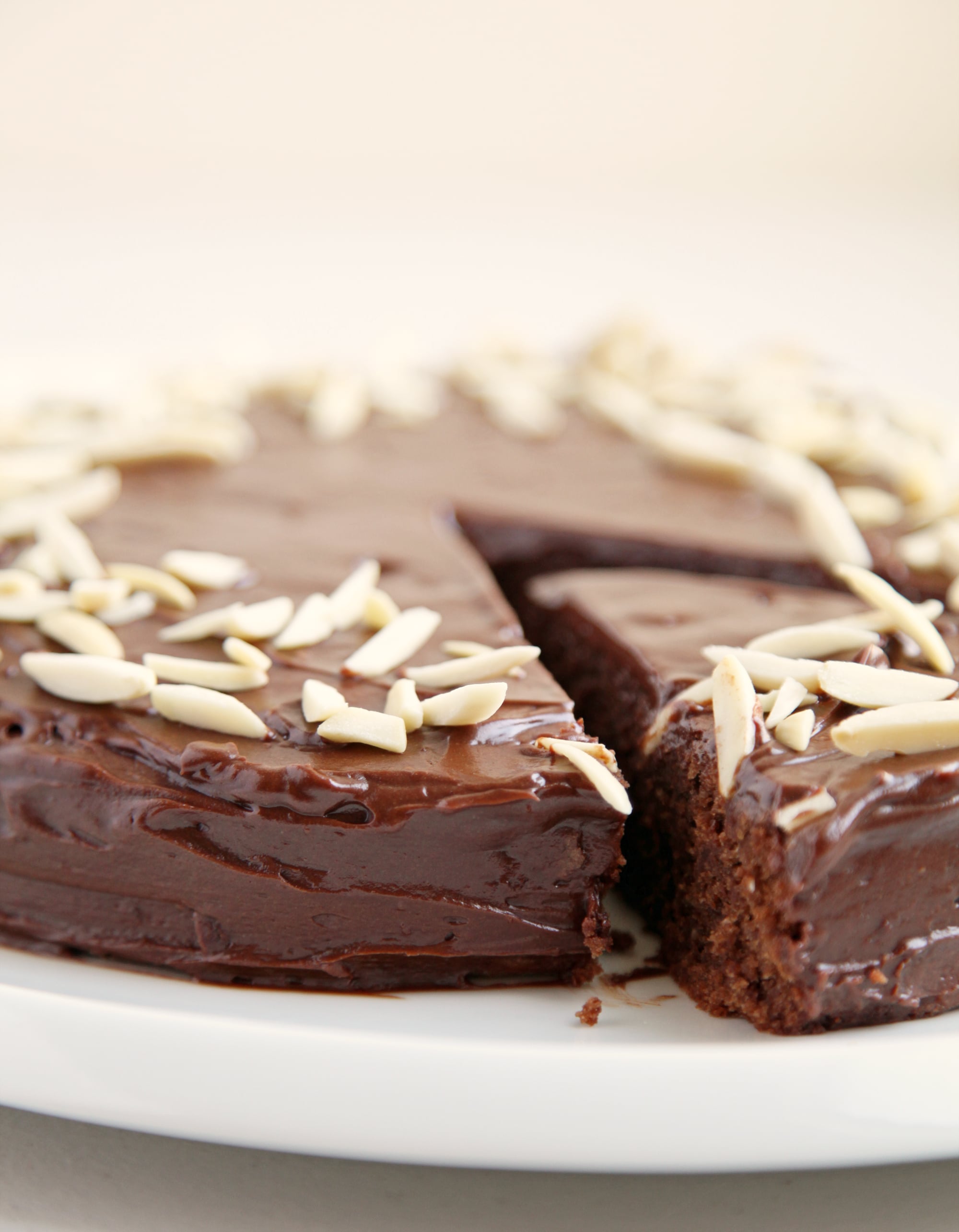 Believe it or not, tomorrow marks what would have been Julia Child's 100th birthday, a momentous date to be sure. Of course, it only seems fitting to celebrate Julia's centennial with a sliver of cake from her recipe archives.
While the grand dame of French cookery mostly stuck to classic French sponge cakes in her iconic tomes, it was still a challenge to narrow down the variety of options. I was tempted left and right by promises of cakes perfumed with orange zest, studded with glacéed fruit, and topped with glossy apricot glaze, but ultimately, only one cake was deemed fitting for the task. Named for the Queen of Sheba, the reine de Saba is quite literally a cake fit for a queen, and while we may have expressed occasional (the slightest of slight!) misgivings about some of Julia's fussier recipes (and this one surely qualifies), there's no denying that Julia was, and is, a queen in our hearts, and ought to be celebrated as such.
A word on the cake: please, please, please don't cook this cake to the traditional degree of doneness. The cake ought to be a bit fudgy in the center, and will appear a bit underdone when first removed from the oven. Trust us, and Julia, this small consideration makes all the difference, and results in a cake characterized by a rich yet surprisingly delicate crumb.
Notes
Feel free to swap out the coffee for brewed espresso, simply dilute 50 percent with water (so 1 1/2 tablespoons espresso, 1/2 tablespoon water). Can't find almond meal? Grind 1 1/4 ounces, or a heaping 1/3 cup of almonds in a food processor or blender with 1 tablespoon of granulated sugar (reduce the sugar added to the butter accordingly) until finely ground.
Ingredients
For Cake:
4 ounces bittersweet chocolate, chopped
2 tablespoons brewed coffee, or dark rum
8 tablespoons (4 ounces) unsalted butter, at room temperature
2/3 cup (4 2/3 ounces) + 1 tablespoon granulated sugar
1/2 teaspoon kosher salt + a pinch
3 eggs, yolks separated from whites, at room temperature
1/3 cup (1 1/4 ounces) almond meal
1/4 teaspoon almond extract
1/2 cup (2 ounces) cake flour, sifted
About 1/2 cup slivered or sliced almonds, for garnish
For Frosting:
2 tablespoons bittersweet chocolate, chopped
2 tablespoons brewed coffee, or dark rum
1/4 teaspoon kosher salt
6 tablespoons unsalted butter, at cool room temperature
Directions
For Cake:
Preheat the oven to 350°F. Prep an 8-inch round cake pan by greasing the base and sides, lining with a parchment paper circle, and then dusting with flour, taking care to tap out excess flour.
Place the chocolate and coffee/rum in a medium heat-proof bowl and set atop a pan of simmering water. Melt, stirring occasionally, until smooth.
In a stand mixer, beat together the butter and 2/3 cup sugar, until fluffy, and lightened in color. Scrape down the sides of the bowl with a rubber spatula, and mix in the 1/2 teaspoon salt.
Add the egg yolks, one at a time, beating until thoroughly incorporated.
Add the chocolate and coffee mixture, as well as the almond meal and almond extract, and mix until well incorporated.
In a medium mixing bowl whip the egg whites until soft peaks form. Add a pinch of salt and 1 tablespoon sugar, and continue whipping until stiff peaks form.
Lighten the batter by mixing in 1/4 of the egg whites (they do not need to be folded in). Then alternate between gently folding in 1/3 of the remaining egg whites and 1/3 of the sifted cake flour, until no streaks remain.
Turn out the batter into the prepped cake pan, and gently smooth the cake batter to the edge of the pan.
Bake for 20-25 minutes, or until puffed, and just set in the center (it should jiggle slightly when shaken).
Allow to cool in the pan for 10-15 minutes, then run a butter knife around the edge of the cake, and unmold from the pan. Allow to cool completely before frosting.
For Frosting:
Place the chocolate and coffee/rum in a medium heat-proof bowl and set atop a pan of simmering water. Melt, stirring occasionally, until smooth.
Off the heat, beat in the butter, one tablespoon at a time, with a wooden spoon. Once the butter is thoroughly incorporated, and no lumps remain, place the mixing bowl inside a larger mixing bowl that is filled partway with ice.
Mix the frosting over the ice bath, until it has chilled down to a spreadable consistency.
Spread the frosting over the top and sides of the cake.
Decorate with the slivered almonds (bonus: this helps hide any imperfections in the frosting job!).
Information
Category

Desserts, Cake

Cuisine

French

Yield

1 8-inch cake (serves 6-8)