Review of Breville's Slow Cooker
Breville's Slow Cooker Has Made Me a Crockpot Convert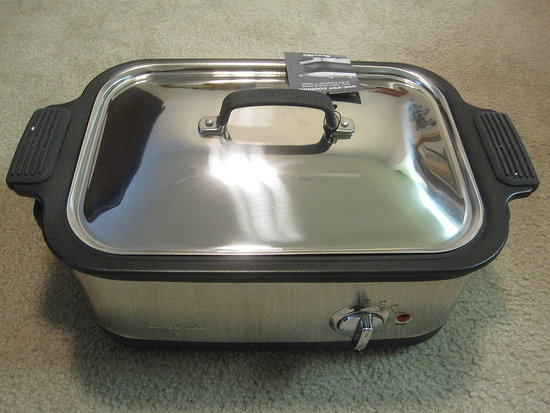 Recently I was approached by Breville, an Australian kitchen appliance company, asking if I was interested in experimenting with their shiny new slow cooker. My initial response was no: I'm not a huge fan of slow cookers and I've never really understood their appeal. Then YumSugar pointed out that since I hadn't cooked with one, I was the ideal candidate to give it a try. To find out what I thought of Breville's Slow Cooker with EasySear ($180),
.
This slow cooker is nothing like my father's tried and trusted, crusty old crockpot. It's a sleek rectangular gadget with several parts. The outside is stainless steel, and the removable inside is cast aluminum.
The best thing about this machine is the removable inside pan. If a recipe calls for searing and browning before slow cooking, it can be done in this stove-top friendly pan. It means one less item to wash!
Speaking of washing, the insert is incredibly easy to clean. The stainless steel outside, however, is prone to dirty finger stains and, after several uses, is clearly soiled.
The slow-cooker has two settings: low and high. The high seems really hot, and I was a little wary of leaving things cooking on high all day while I wasn't at home, so I cooked on low.
The cooker also comes with a roasting rack that I'm excited to try.
After experiencing Breville, I am officially a slow cooker convert. The first day I made chili; I had a horribly stressful afternoon, walked into my apartment complex and thought, "wow something smells wonderful." As I neared my place, I realized it was coming from the slow cooker! It was an effortless and comforting meal that made me want to try everything from red wine short ribs to pork rillettes in the machine.
Do you have a slow cooker or any of Breville's appliances? What do you think about them?