Review of Donatella Cooks
Must Read: Donatella Cooks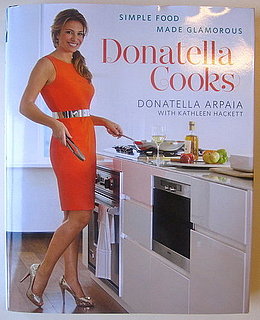 Watching her as a judge on Iron Chef America, I always thought Donatella Arpaia was cold and snobby.
However, after reading her hints for romantic cooking and seeing her up close and personal at the South Beach Food & Wine Festival, I've changed my mind. I think the independent Italian restaurant owner is fabulous!
Naturally I was excited to get my hands on her hot-off-the-presses cookbook, Donatella Cooks ($32). Did the book live up to my high hostess expectations? Find out after the break.


Pros:
Arpaia is known for "feeding people great food glamorously in beautiful settings," and with this book, she is able to translate that to the masses.
It's a wonderful tome with glossy photos, stylish settings, and elegant entertaining ideas.
The book is broken down into seasons, which is helpful for home cooks who create meals based on seasonal produce.
Cons:
If you're not into fashion, you may be turned off by it. One of the first images is of a pile of shoes next to a bunch of kitchen tools; she also provides outfit suggestions for what to wear to dinner parties.
Recipes are written in paragraph form which are more pretty to look at, but harder to follow when cooking.
Arpaia's recipes, style, and tips seem very similar to Giada De Laurentiis.
Recipes: I love the wide range of recipes featured in this collection. It's organized by season into sections: hors d'oeuvres; soups, salads, and small plates; pasta and grains; main courses; vegetables and side dishes; and desserts. Here are some fun favorites:
Gorgonzola dolce, bacon, and onion crostini
Fava bean puree with swiss chard
Orcchiette with broccoli rabe
Spinach and gruyere souffles
coconut cake
Imagery: The clear and concise photography is stunning and the majority of the recipes have a photo.
Overall rating: Fans of Italian cooking and the finer things in life will go crazy for Donatella's classic and straightforward tips and techniques.