Review of Dunkin' Donuts New Big 'N Toasty Breakfast Sandwich
Dunkin's New Big 'N Toasty: Does It Live Up to Its Name?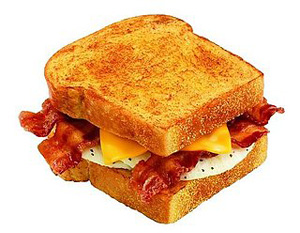 Those fast food breakfast wars aren't letting up anytime soon. This week, Dunkin' Donuts revealed its latest breakfast offering: The Big 'N Toasty, a breakfast sandwich made with two peppered fried eggs, four portions of cherrywood-smoked bacon, and a slice of American cheese, all sandwiched between two pieces of thick-cut Texas toast.
Seems like a pretty generous portion for $3.29 — but how did it taste?
Slashfood took it for a morning spin and discovered the sandwich had both advantages and drawbacks. Read the full review — and see the final grade — when you catch the full story at Slashfood.