Review of Mindy Segal's Hot Chocolate
Bring Mindy Segal's Hot Chocolate Home
Talk to any Chicago foodie about desserts, and Mindy Segal's name will inevitably pop up. The pastry chef (and four-time James Beard Award nominee) opened her restaurant, Hot Chocolate, in 2004. And with a name like that, your signature dessert had better be pretty damn good. Fortunately, it is that and much more: rich, thick, and delicious. If you can't make it to the Windy City any time soon, you can bring the dessert to you with Mindy's Hot Chocolate blends ($20). As a former Chicagoan who misses Mindy's creations, I wanted to see if my at-home version could measure up to the restaurant's. To find out, keep reading.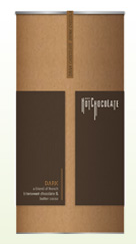 Hot Chocolate offers six blends, including unusual varieties such as malted milk and espresso, butterscotch, and white chocolate. I went with the classic dark chocolate — nice and simple. The recipe calls for equal parts cream and milk, but I found the end result was tasty (and very rich) with only milk. After heating the milk, you slowly stir in some chocolate until it melts. Then it's time to strain the cocoa to remove any remaining chocolatey bits. A marshmallow, to be offered online soon, is the finishing touch.
I prepared this hot chocolate with friends, and we were thrilled with the intense, rich flavor. It isn't as mind-blowingly good as Mindy's in-restaurant version, but honestly, it's about 97 percent of the way there. (My version was slightly less smooth, which is probably due to my omission of the cream.) I suggest making small batches, because even for a chocolate aficionado like me, a small cup was satisfying. In short, it's a winner, and after writing about it, I now have to go make more.