Review: Pepperidge Farm Strawberry Milano Cookies
Taste Test: Strawberry Milano Cookies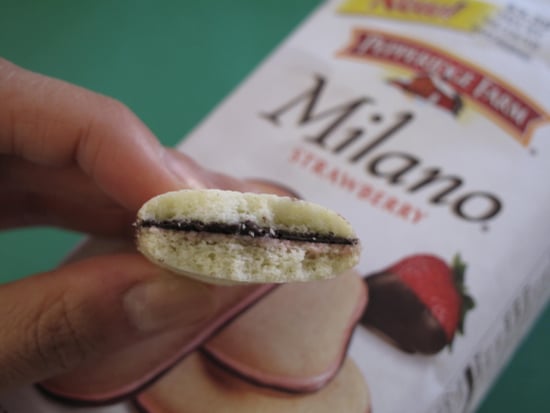 It's impossible for me to stop through the cookie aisle at the supermarket without stalling for at least a minute to gaze longingly at the enticing assortment of Pepperidge Farm Milano cookies. Both my guy and I have a serious weakness for the Double Chocolate and the Mint — after all, we even went to such lengths as to make our own version at home. So the world stopped for just a split second when we received a shipment of the brand's latest flavor, strawberry. The flavor combination sounded wildly delicious and almost too good to be true. Was it? Find out when you read more.
I really, truly wanted to like these, but alas, Strawberry Milanos and I weren't meant to be. Although they have the familiar dark chocolate flavor and crisp cookie of the original, sandwiched between the two is a waxy, artificial layer that bore little semblance to any fruit that comes from nature. Minutes later, my mouth was coated with the unpleasant chemical aftertaste of fake strawberry shortcake, and worse yet, my stomach hurt. I'd have been better off dipping Original Milanos in homemade strawberry jam.
Have you tried these? Did you come to the same conclusion: that they disappoint?