Review of Ransom Old Tom Gin
Happy Hour: Ransom Old Tom Gin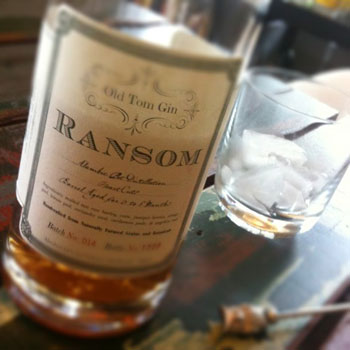 In the Summer, gin is my go-to spirit — nothing's more refreshing than a crisp gin and tonic on a warm day. But in the Winter, I turn to richer liquors like whiskey and bourbon, and mix up classic old-fashioneds and sazeracs. So when I picked up a bottle of Ransom Old Tom Gin, I thought I was in heaven — it's the best of both worlds.
Ransom is an authentic Old Tom gin, which means it's made from malted barley and corn, much like a whiskey. Then, it's aged in oak wine barrels for a few months.
The result is a spirit somewhere between gin and whiskey, and unlike anything I've ever tasted. The barrel aging gives the gin a woody, herbaceous flavor, but it still retains gin's signature juniper and citrus flavors.
Since Ransom is richer and more complex than regular gin, I wouldn't use it in a gin and tonic; if you want to mix it into a cocktail, I'd recommend using it in place of whiskey or bourbon in an old-fashioned, or even in a sidecar. But it's also incredibly smooth and delicious on its own and is perfect served neat or on the rocks.
Have you ever tried a barrel-aged gin?