Review of Snapple Papaya Mango Tea
Taste Test: Snapple Papaya Mango Tea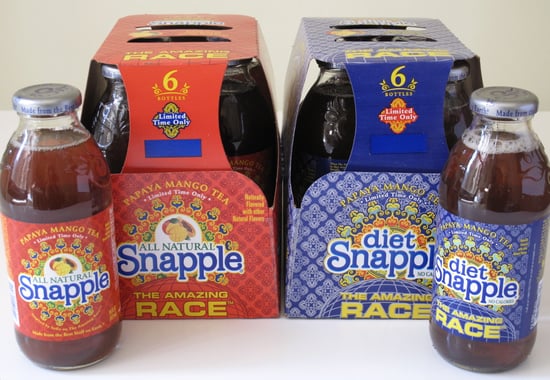 I never thought I'd say this, but these days, I'm more of a tea person than a coffee person. Ever since getting hooked on ginger tea, I've slowly made my way to other herbal teas and, most recently, black and green tea. Not that I wasn't able to drink them before, but now I actually like them.
Snapple must've known. They shipped over a giant container of their latest drink, Papaya Mango Iced Tea, a new limited-edition beverage released in partnership with CBS's The Amazing Race, and "inspired by the exotic flavors and rich tea tradition of India." We tried both the regular and diet versions, which are, according to the label, "naturally flavored with other natural flavors." What does that even mean?
"The regular tastes good!" Katie remarked on first sip. It's true: the fruity-floral initial notes, mildly bitter black tea, and sweet ending are inherently satisfying. As a longtime Diet Coke drinker, I preferred the aspartame version. It tastes similarly refreshing and doesn't have the lingering aftertaste of some diet beverages. Neither had distinctly mango or papaya notes, but generally tropical, almost pineapple-y flavors.
I don't buy bottled iced tea often, but this would be the perfect drink to get into gear for Spring's warmer days. What's your favorite iced tea flavor?