Rice Salad With Sweet Herbs
Herbed Rice Salad Goes With Just About Everything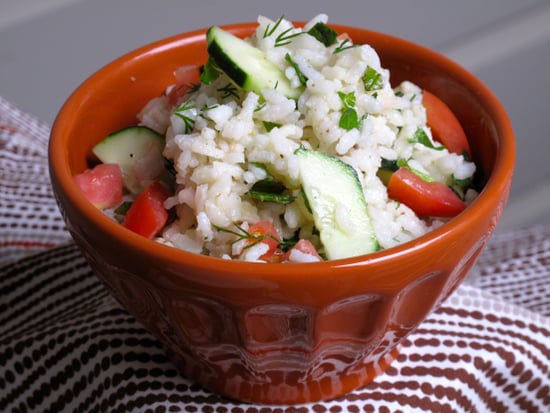 My lifelong relationship with rice has been solid yet stagnant: growing up in a Chinese household, plain white rice served hot out of the rice maker was integral to every lunch and dinner, although it never strayed from its spartan form.
Yet recently, my intrigue with this herbed rice salad from David Tanis's latest cookbook has sparked something of a phenomenon. I no longer want to eat plain rice. Instead, I want to eat his herbed rice with everything. Grilled meats? Check. Chilled shellfish? Check. Tomato salad? Double check.
The key is to skip the rice cooker and boil the rice the old-school way, to prevent the grains from sticking. Cook until just slightly chewy, then spread them out to dry and mix them with herbs by hand to keep everything airy. I like to add chopped fresh Summer vegetables like cucumbers and tomatoes. The end product reminds me of a fluffier, more comforting, slightly warm version of tabbouleh. Keep reading to get the building block of a recipe.
Ingredients
2 cups Arborio rice or similar variety (I used Vialone Nano)
1 shallot, finely chopped
2 tablespooons fresh lemon juice, or to taste
1 tablespoon white wine vinegar
Salt and pepper
1 teaspoon Dijon mustard
1/4 cup olive oil, plus more if needed
1 tablespoon each finely chopped parsley, chives, chervil, mint, and dill
Directions
Bring 4 quarts of lightly salted water to a boil in a big pot. Add the rice and boil briskly until the grains are ever-so-slightly al dente, about 15 minutes. Drain the rice in a colander, then spread it out on a baking sheet to cool.
Macerate the shallot in the lemon juice, vinegar, and salt to taste for about 10 minutes. Stir in the mustard to dissolve, then whisk in 1/4 cup olive oil.
When the rice is cool, put it in a wide salad bowl, fluff it up with your fingers, and season lightly with salt and pepper. Pour over the vinaigrette and toss lightly.
Just before serving, chop the herbs. Sprinkle the herbs over the rice and gently mix it in. Taste and correct the seasonings, adding salt, lemon juice, and olive oil if necessary. Transfer to a serving platter.
Serves 4 to 6.
Information
Category

Side Dishes, Rice

Cuisine

North American