Richard Blais Talks About Winning Top Chef All-Stars
Richard Blais on Pork, Perfect Picnic Food, and His Next Step
Top Chef All-Stars champ Richard Blais was the guest of honor earlier this week at an event in NYC hosted by the National Pork Board called, "Pork: Be Inspired." He concocted a few pork-based recipes for the assembled reporters, including a delicious ham and herb schnitzel with a 6-minute egg — check out that recipe below.
He narrated the process of making the dishes, adding some of his trademark quips like, "Is it weird if I say there is something romantic about a piece of meat basted in its own juices?" Richard also emphasized that he wishes people would just get over their fear of burning pork when they're cooking.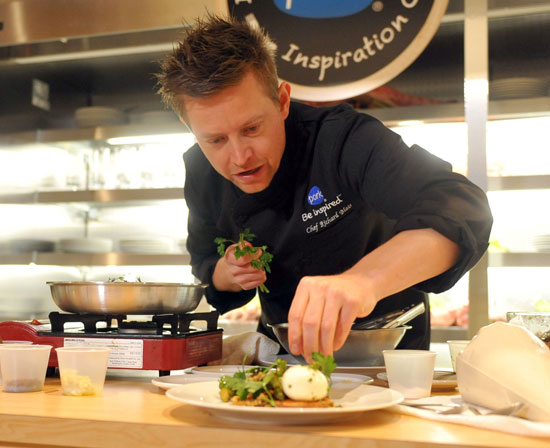 I managed to snag a minute with Richard after the demo, and he chatted about how he celebrated with his wife after his big win (a low key dinner at the Big Apple's Blue Ribbon), further sharing about his favorite Spring picnic dish, joining the Top Chef tour, and what's next. He said:
On his favorite dish for a picnic: Right now for spring, I just did something with asparagus
so whether it's asparagus or artichokes and mayonnaise and some lemon and some toast. Some olive oil. It sounds like simple stuff, but that's what I like to eat in the Spring and Summer."
On joining the Top Chef tour: "I'm doing some of the tour dates yeah, I'm not sure what cities I'll end up in. It'll be my fourth year on the tour, and if you get a chance, whatever city you're in to come out and see it, it's a lot of fun. This year we're adding a competitive element to it where the contestants are going to be competing again in front of the tour audiences.
On what's next for him: "I'm opening a few restaurants in the Southeast, but as a native New Yorker and someone who loves big cities I would love to get a project going in major A-List city. But nothing to report just yet."
To see Richard's recipe for ham and herb schnitzel with a 6-minute egg, just read more.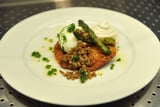 Ingredients
For whipped maple topping:
2 tablespoons maple syrup, such as Blis
1/2 cup heavy whipping cream
For sausage vinaigrette:
4 ounces sausage, patty style breakfast
2 tablespoons onion, finely diced
1 teaspoon garlic, minced
1 teaspoon ginger, fresh, grated
1 teaspoon sage, fresh, chopped
2 tablespoons sherry vinegar
For asparagus:
1 1/2 teaspoons olive oil
1 1/2 teaspoons chili paste, such as harissa*
8 to 12 spears asparagus, trimmed
1/2 lemon
Salt and black pepper
For eggs:
4 large eggs
Salt and black pepper
For pork:
4 ham steaks, trimmed, about 1/4-inch thick
2 large eggs
1 teaspoon dijon mustard
1 teaspoon hot sauce, such as Crystal
1 cup panko bread crumbs
2 tablespoons fresh flat-leaf parsley, finely chopped
1 tablespoon basil, fresh, finely chopped
1 tablespoon chives, fresh, finely chopped
1 teaspoon tarragon, fresh, finely chopped
3 cloves garlic, minced
2 to 4 tablespoons lard, also known as manteca, or more if needed
Directions
Make the whipped maple: Using an electric mixer with a whisk attachment, whip cream to stiff peak. Fold in maple syrup. Set aside in the refrigerator.
Make the sausage vinaigrette: In a medium skillet over medium heat, combine sausage, onion, garlic, ginger, and sage. Cook, stirring occasionally and breaking up sausage, until sausage is browned and cooked through, about 5 minutes. Stir in vinegar, scraping up any browned bits in the skillet. Remove from the heat, cover to keep warm, and set aside.
Make the asparagus: Preheat the oven to 350 degrees F. In a small bowl, combine oil and harissa. Arrange asparagus on a rimmed baking sheet and spread with harissa mixture. Season with salt and pepper. Roast until tender, about 10 minutes. Squeeze juice from lemon over asparagus. Cover to keep warm and set aside.
While asparagus is roasting, make the eggs. Prepare an ice bath and set aside. In a medium saucepan of boiling water, cook eggs for exactly 6 minutes. Transfer eggs to the ice bath and set aside until cool enough to handle. Peel eggs, then season with salt and pepper. Cover to keep warm and set aside.
Make ham cutlet: Place flour in a large, shallow bowl. In another large, shallow bowl, whisk eggs, mustard, and hot sauce. In a third large, shallow bowl, combine panko bread crumbs, parsley, basil, chives, tarragon, and garlic.
In a very large skillet over medium-high heat, warm 2 tablespoons lard. Working one cutlet at a time, dredge in flour mixture, egg mixture, and panko mixture. Add cutlets to skillet and cook, in batches if necessary and using more lard as needed, until golden and crisp, about 2 minutes per side. Transfer cutlets to a plate and cover to keep warm.
To serve, arrange cutlets on plates, and spoon on breakfast sausage vinaigrette. Arrange egg on top and asparagus along side. Garnish with whipped maple.
Serves 4.
Information
Category

Main Dishes, Pork

Cuisine

North American
Photo from Diane Bondareff, courtesy of the National Pork Board