Richard Rosendale Wins 2012 Bocuse d'Or USA Competition
Richard Rosendale Crowned Bocuse d'Or USA Winner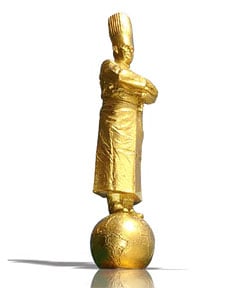 Another year, another winner at the Bocuse d'Or USA. Yesterday, the US representative for the Bocuse d'Or, the world's most prestigious culinary competition, was selected, and the title went to Richard Rosendale, executive chef of the Greenbrier in White Sulphur Springs, WV.
Rosendale, who beat out competitors Jeffrey Lizzotte, William Bradley, and Danny Cerqueda for the title, is a veteran Bocuse d'Or competitor who won the silver in the same competition three years ago. Rosendale will now serve as captain for the USA team at next year's international competition, to take place Jan. 29, 2013, in Lyon, France.
Although Rosendale's got the support of coach Gavin Kaysen and board members Thomas Keller, Daniel Boulud, and Jerome Bocuse, he and the rest of the USA team face stiff competition: sixth is the highest that the American team has ever placed. Could 2013 be the year to change all that?