Rick Bayless Salsa Recipes
Celebrate Cinco De Mayo With Rick Bayless's Salsas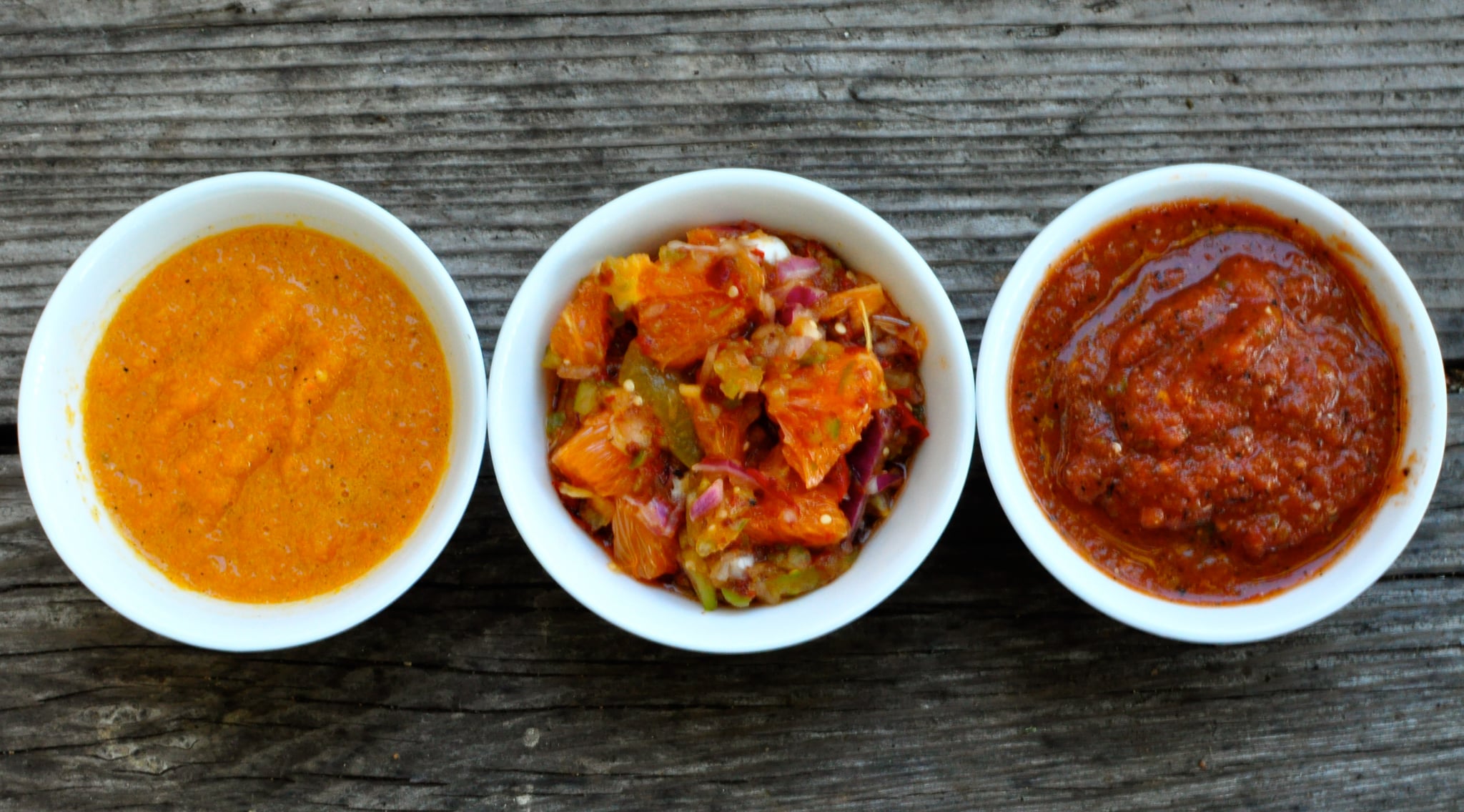 If you are planning a fiesta for this Cinco de Mayo, don't forget to do it right and make a fresh salsa to scoop onto your tacos. Instead of picking up a jar of salsa at the store, I was inspired by Rick Bayless, the master of Mexican cuisine, to make some authentic salsas.
First and foremost, prepackaged salsa could never be as complex as the three salsas I made: tomatillo-orange, roasted tomato, and habanero hot sauce. The first two could easily be enjoyed with chips, but the habanero was much too hot to consume by itself. To really test out these salsas, I put them on a couple pork tacos with avocado, sour cream, and lime juice.
I can only imagine how wonderful these would be with Party's slow-cooker carnitas. All three salsas were very different in flavor and turned a simple taco into something truly extraordinary. See the tasty tacos I made and the outstanding salsa recipes by reading more.
Ingredients
8 ounces (about 4 medium) tomatillos, husked and rinsed
1/2 small red onion, chopped into 1/4-inch pieces
1 or 2 canned chipotle chiles en adobo, removed from the canning sauce, seeded and finely chopped
2 small seedless oranges
Directions
Set a medium (8-inch) nonstick (or foil-lined) skillet over medium-high heat. Use the aluminum foil to avoid a huge mess on the pan. Lay in half of the tomatillos cut-side down. When they are browned, 3 or 4 minutes, flip and brown the other side. Remove from the pan and cool.
Scoop the remaining tomatillos into a food processor and pulse several times until evenly chopped—no pieces should be bigger than 1/4 inch. Scrape into a medium bowl.
Scoop the onion into a strainer, rinse under cold tap water, shake off the excess and add to the bowl.
Remove the chipotles from the adobo and cut them in half and remove the seeds. Chop finely.
Without washing the processor, process the roasted tomatillos until smooth. Stir into the fresh tomatillo mixture. Using a small knife, cut the peel from the oranges. Cut sections (supremes) from the oranges by cutting between the white membranes to release segments with no white pith or membrane. Cut each segment into 3 or 4 pieces and stir them into the tomatillo mixture. Taste and season with salt, usually 1/2 teaspoon. Cover and refrigerate.
Makes 1 1/2 cups.
Information
Category

Condiments/Sauces, Salsa

Cuisine

North American
Ingredients
1 to 2 fresh jalapeño chiles
3 garlic cloves, unpeeled
1 15-ounce can diced tomatoes in juice, preferably fire roasted
1/4 cup (loosely packed) chopped fresh cilantro
2 tablespoons fresh lime juice
Salt
Directions
Roast the chiles and garlic. In a small ungreased skillet over medium heat lined with aluminum foil, roast the chiles and garlic, turning regularly, until they are soft and blotchy brown, about 10 minutes for the chiles, 15 minutes for the garlic.
Cool until handleable, then pull the stem(s) off the chile(s) and roughly chop. Peel the skin off the garlic. Scoop into a food processor and pulse until quite finely chopped.
Finish the salsa. Add the tomatoes with their juice. Re-cover and pulse until you have a coarse puree. Scrape into a serving dish. Stir in the cilantro and lime juice. Taste and season with salt, usually about 1/2 teaspoon.
Makes 1 1/2 cups.
Information
Category

Condiments/Sauces, Salsa

Cuisine

North American
Ingredients
5 cloves garlic, unpeeled
1/2 cup peeled, roughly chopped carrot
1/2 cup roughly chopped white onion
12 medium (about 5 ounces) orange habanero chiles, stemmed and seeded (absolutely wear gloves when handling)
1 cup apple cider vinegar
About 2 teaspoons salt
1/4 teaspoon sugar
Directions
Roast the garlic in a skillet over medium heat, turning regularly until soft and blackened in spots, 10 to 15 minutes. Cool and peel.
In a small saucepan, combine the carrot, onion and habanero chiles with the vinegar and 1 cup water. Partially cover and simmer over medium-low heat until the carrots are thoroughly tender, about 10 minutes. Pour into a blender jar, add the roasted garlic, salt and sugar. Blend until smooth. Thin with a little additional water if you think your hot sauce is too thick. Taste and season with additional salt if you think necessary.
Pour into jars or bottles and store in the refrigerator until you're ready to add some dazzle to a dish.
Makes 2 cups.
Information
Category

Condiments/Sauces, Salsa

Cuisine

North American