Roasted Asparagus With Miso Butter and Poached Eggs
Fast and Easy Dinner: Asparagus With Miso Butter and Poached Eggs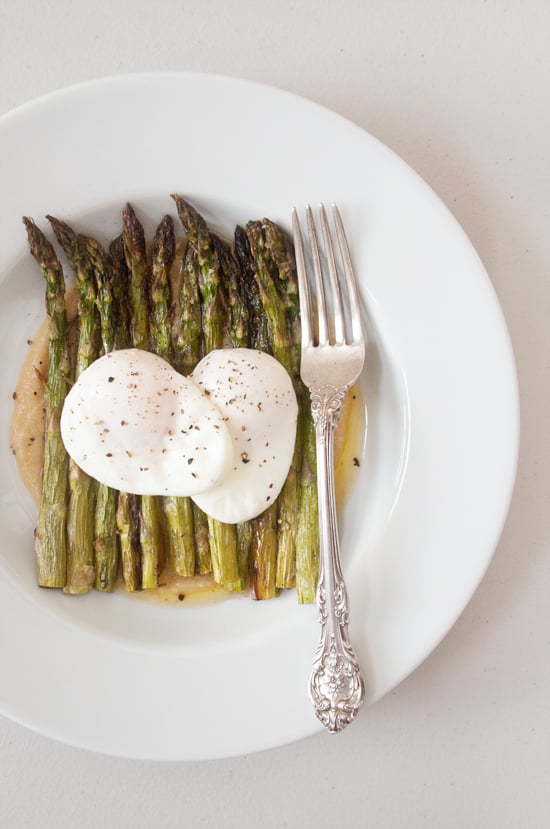 Salty, and slightly sweet and full of umami, miso is undoubtedly my desert island ingredient. Add to the mix verdant Spring asparagus, sherry vinegar, copious amounts of butter, and poached eggs, and it's hardly surprising that this weeknight-friendly dish has become an obsession of sorts around my household. Rarely a week passes where this perfect confluence of ingredients does not grace my table. Sometimes I even dig into a bowl of it more than once!
To get my miso butter and poached egg fix outside of asparagus season, I've even taken to swapping out steamed kale for the grassy stalk to inspiring effect. I'm an obsessive sort, prone to extreme loyalty to any matter of things, but I've rarely been so smitten with a single dish as in this case. So, let me urge you strongly to try it out for yourself — I'd bet that you'll become a convert as well.
Roasted Asparagus with Miso Butter and Poached Eggs


Adapted from Momofuku
by David Chang and Peter Meehan
Notes
Miso butter can be prepared ahead of time and refrigerated until needed.
Ingredients
1/2 cup white miso
8 tablespoons (1 stick) unsalted butter, at room temperature
2 teaspoons sherry vinegar
1 pound (2 bundles) asparagus, rinsed
Neutral oil, such as canola or grapeseed
Kosher salt
8 large eggs
Black pepper
Directions
Preheat the oven to 400°F. Bring a pot of water to a boil.
Use a fork to beat together the miso and butter in a small bowl until thoroughly incorporated.
Heat the sherry vinegar in a small skillet until it just begins to bubble. Take the skillet off the heat, and add the miso butter, whisking to combine completely. Set aside.
Snap off the woody ends of the asparagus, arrange the spears on a half-sheet pan, drizzle with oil, sprinkle with salt, and roast for 7-10 minutes, or until crisp tender.
While the asparagus roasts, poach the eggs.
Split the miso butter between four shallow bowls, dolloping it in the center, and spreading it out slightly. Top with roasted asparagus (split evenly between the bowls), and top each with two poached eggs and a few cracks of pepper.
Serves 4.
Information
Category

Main Dishes, Eggs

Cuisine

North American