Roasted Beet Soup With Goat Cheese Recipe
Soup's On: Roasted Beet and Garlic Soup With Chèvre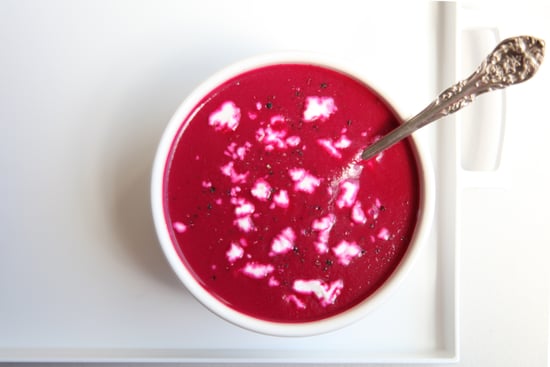 As much as I love eating seasonally, it can be a hair uninspiring this time of year when the pickings are slim to say the least. Still, a girl's got to eat, and I prefer to do it well. I love this satiating but light soup that relies on a cold-weather market staple: the humble beet. Velvety smooth and perked up by the addition of tangy chèvre, it's not only delicious, but also practical. I like to make a big batch and reap the rewards throughout the week for an easy-to-reheat lunch or dinner.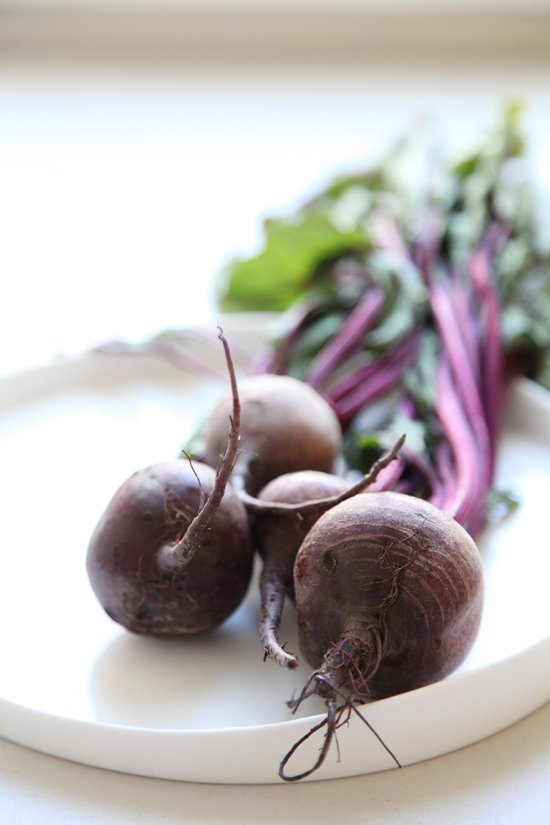 A quick note: while this soup's vibrant color may lead you to think this is simply borscht by another name, don't let your eyes fool you. The main ingredient may be the same, but it's actually its own creature of sorts. Borscht tends to be served chilled, is quite a bit heartier, and has a decidedly different (and, judging by the host of recipes out there, varied) flavor profile.
Beet fanatic or newbie, let me urge you to read on.
Roasted Beet and Garlic Soup with Chèvre
Adapted from Whole Living
Ingredients
6 medium to large beets, scrubbed clean and trimmed of stems
3 tablespoons canola oil, divided, plus more for drizzling
1 head unpeeled garlic
2 large leeks, thinly sliced
2 teaspoons fresh thyme leaves, or 1 teaspoon herbes de Provence
2 bay leaves
4 cups vegetable stock
2 tablespoons extra-virgin olive oil
Kosher salt and freshly cracked pepper
4-5 teaspoons sherry vinegar
6 ounces chèvre (fresh goat cheese), crumbled
Directions
Preheat oven to 400ºF. Drizzle beets with 3 tablespoons canola oil and wrap tightly in aluminum foil. Place the foil packet on a baking sheet and roast til beets are fork-tender, about 1 hour. Meanwhile, slice the stem end off of the head of garlic and drizzle the exposed cloves with oil. Wrap the garlic in aluminum foil and roast for 40 minutes or until fragrant and golden brown.
Carefully unwrap the beets and garlic, and allow them to cool to the touch. Rub the beet skins off and quarter (with larger beets cut into eighths). Squeeze the cloves of garlic out from the head, and set aside.
Heat remaining 3 tablespoons canola oil in a stockpot or Dutch oven over medium heat. Add leeks, and cook, stirring occasionally, until softened, about 8-10 minutes. Add beets, garlic, thyme (or herbes de Provence), bay leaves, and vegetable stock, plus an additional 2 cups water.
Bring to a boil, then reduce the heat to low, and simmer for 5 minutes
Discard bay leaves, and blend til smooth either using an immersion blender (my preference) or by carefully transferring to a blender in batches.
Add olive oil, and season to taste with salt (I generally start with 1/2 teaspoon and go from there, tasting frequently) and vinegar.
Ladle into bowls and sprinkle with freshly cracked black pepper; garnish with goat cheese (about an ounce per serving).
Serves 6-8.
Information
Category

Soups/Stews, Cream

Cuisine

North American