Roasted Bone Marrow With Parsley Salad
Add a Touch of Decadence to Dinner With Roasted Bone Marrow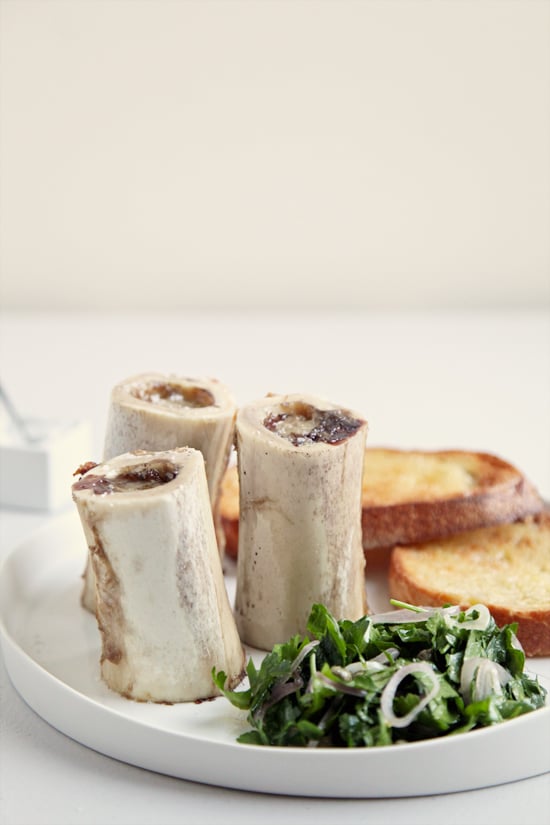 Ever since I was first introduced to roasted bone marrow, it has been a must-order appetizer — if I see it on the menu, my mind is almost unimpeachably made up — but until I tried my hand at cooking the trendy dish, I had no idea how easy, enticing, and accessible bone marrow can be to make at home.
To say that making this recipe was a revelation is a major understatement. Truly, the most challenging (and not terribly difficult at that) step is procuring the bones. I found mine at the butcher counter at Whole Foods, though this required calling slightly ahead of time to make certain they had enough in stock, and to ensure that the bones were cut to my specifications. If this buttery appetizer is up your alley, try your local butcher. All it takes is a short phone call to see if they can wrangle up a few pounds of bones to brighten your meal (and day). Trust me: it's worth the extra step.
Keep reading for the simple yet stupendous recipe.
Notes
Make certain to ask for center-cut marrow bones to promote even cooking and easier handling of the cooked marrow. For an extradecadent treat, brush the bread with olive oil or melted butter before toasting.
Ingredients
8 3- to 4-inch-long pieces center-cut marrow bones
1 cup fresh flat-leaf parsley, roughly chopped
2 small shallots, thinly sliced (about 1/3 cup)
2 tablespoons extra-virgin olive oil
1 tablespoon freshly squeezed lemon juice
1 tablespoon capers, drained
Flaky sea salt
4 8-1/2-inch-thick slices rustic white bread, toasted
Directions
Preheat oven to 450°. Place bones, wider-cut-side down, in an ovenproof skillet or roasting pan. Roast bones until marrow is soft and begins to separate from bone but before it begins to melt, 15-20 minutes, depending on thickness of bones.
Meanwhile, toss parsley, shallots, oil, lemon juice, and capers in a medium bowl to coat. Season salad to taste with sea salt.
Divide marrow bones and salad among plates. Serve with toast and more sea salt. Using a long, thin spoon, scoop marrow onto toast, top with salad, and garnish with a pinch or two of salt.
Serves 4 as a hearty appetizer.
Information
Category

Meats, Appetizers

Cuisine

North American