Roasted Chicken Salad With Garlic Toasts Recipe
Fast & Easy Dinner: Roasted Chicken Salad With Garlic Toasts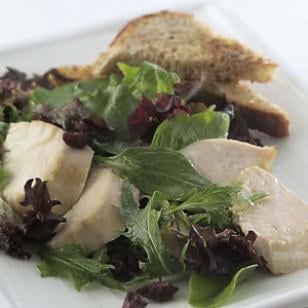 Although I love roasting a whole chicken at home, sometimes there simply isn't time. When that's the case, I head to my local supermarket and pick up cooked chicken. If I'm serving friends, I'll purchase an entire rotisserie chicken, but if cooking for just myself, I simply buy one breast. The things you can do with a store-bought chicken are endless. This recipe uses the chicken to make a quick salad that's paired with toasty garlic bread. It's a great base recipe that can be added to and modified. Toss in vegetables, cheese, or nuts to make it more complex.
Get the basic technique after the break.
Roasted Chicken Salad With Garlic Toasts
From Eating Well
Ingredients
2 cloves garlic, peeled
3 tablespoons cider vinegar or white-wine vinegar
3 tablespoons extra-virgin olive oil
1/4 cup Kalamata olives, pitted and chopped
8 cups mixed salad greens
4 1/2-inch slices whole-wheat country bread, toasted
1 2-pound roasted chicken, (hot or cold), skin discarded, sliced into large pieces
Directions
Mince one garlic clove and whisk with vinegar, oil and olives in a medium bowl. Toss greens in the dressing to coat well.
Rub each bread slice with the remaining garlic clove. (Discard garlic.) Divide the salad among 4 plates, place chicken on top and serve with the bread.
Serves 4.
Information
Category

Poultry, Main Dishes

Cuisine

North American