Compared to the produce stars of Summer, I'm looking at you heirloom tomatoes and corn on the cob, eggplant is somewhat of a sad little sister. Rarely does it get the recognition it deserves and it's normally served fried or in expected preparations like eggplant parmesan. However this earthy purple vegetable, that's in season from May through October, is an excellent ingredient in this hearty chopped salad.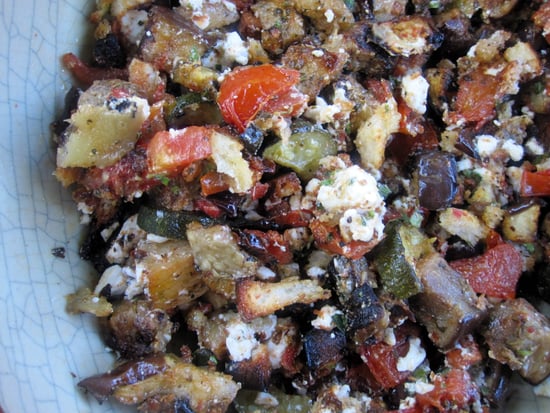 The delectable recipe combines chunks of eggplant with tomatoes and zucchini. It's seasoned with a generous amount of fresh oregano and just before serving, all the veggies are tossed with bread crumbs and salty feta cheese. The resulting side dish is so flavorful and satisfying that even self-proclaimed eggplant haters asked for seconds when I served it. You've got to add this delicious vegetarian dish to your repertoire, so get the recipe now.
Herb-Roasted Eggplant With Tomatoes and Feta
Adapted from Bon Appétit
Ingredients
1 1 3/4-pound eggplant, cut into 1-inch cubes
4 large plum tomatoes, cored, quartered lengthwise
1 zucchini, sliced in half lengthwise and cut into 1/2-inch half moons
4 thin slices of French, sourdough, or ciabatta bread
3 tablespoons olive oil
2 tablespoons Sherry wine vinegar
2 tablespoons plus 2 teaspoons chopped fresh oregano
1/2 cup crumbled feta cheese
Directions
Preheat oven to 450°F. Place eggplant, tomatoes, and zucchini on rimmed baking sheet; toss with oil and vinegar. Sprinkle with 2 tablespoons oregano, salt, and pepper.
Place the bread slices on a small baking sheet. Set both pans in the oven.
Bake the bread for 6-8 minutes until it's well toasted, remove.
Roast the vegetables until tender and golden brown, stirring occasionally, about 40 minutes.
While the veggies continues to cook, slice the crispy toast into small bite-sized pieces.
Transfer eggplant and tomatoes to platter or serving bowl. Sprinkle with breadcrumbs, feta, and 2 teaspoons oregano and serve.
Serves 6.
Information
Category

Vegetables, Side Dishes

Cuisine

North American