Roasted Red Pepper Dip Recipe
World Traveler: Muhammara With Pita Chips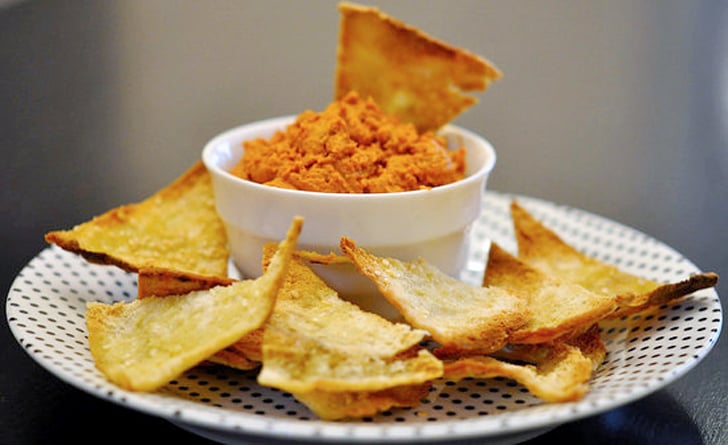 Traveling the globe can be pricey, but trying out new worldly recipes in your own kitchen is an easy and inexpensive way to taste more of the planet. In our world traveler series, we are doing just that: exploring the earth one dish at a time.
Muhammara is a Syrian roasted pepper and walnut dip often served with crackers, on kebabs, or over meat and fish. The longest part of preparing the dip is roasting the bell peppers. Of course you could just buy a jar, but they are so much better fresh. If you have never roasted your own, check out this how-to slideshow. Once you have the roasted bell peppers, the dip is incredibly simple to make with the help of a food processor.
The sweetness from the pomegranate molasses and roasted bell peppers is balanced by the tart lemon juice and spicy kick of jalapeño. I served it with pita chips, but it would be great as a veggie dip or a sandwich condiment. Skip the hummus and the onion dip and give muhammara a try. Curious about the recipe? Keep reading.
Muhammara: Roasted Bell Pepper Walnut Dip With Homemade Pita Chips
Ingredients
3/4 cup walnuts
3 roasted red bell peppers (Not sure how to roast them? Click here)
3/4 cup fresh bread crumbs
1 jalapeño or other small hot chili pepper, stemmed and seeded
1 small onion, finely chopped
2 garlic cloves, minced
1 tablespoon pomegranate molasses
1 tablespoon lemon juice
1 teaspoon ground cumin
Salt and pepper
2 tablespoons olive oil
Pita Chips
3 pitas cut in half and cut into strips or triangles
2-3 tablespoons olive oil
salt
2-3 tablespoons sesame seeds
Directions
Toast walnuts in a dry skillet over medium heat, shaking frequently, until fragrant and lightly browned, about 5 minutes.
Rinse roasted peppers well, remove any membranes or seeds, then dry with paper towels. Transfer to a food processor, along with walnuts, bread crumbs, chili pepper, onion, garlic, pomegranate molasses, lemon juice, cumin, and salt and pepper to taste. Process until smooth, stopping to scrape down the sides if necessary.
With the machine running, slowly pour in olive oil and process until combined. Taste, and adjust seasoning if necessary. Serve with toasted pita bread for dipping.
Pita Chips: preheat the oven to 400 degrees F. Place the pita pieces on a foil lined cookie sheets, drizzle with olive oil and sprinkle with salt and sesame seeds. Bake for 3-5 minutes until golden brown. Sprinkle with more salt, if needed.
Makes about 2 1/2 cups muhammara and 2 1/2 cups of pita chips.
Information
Category

Snacks, Dips

Cuisine

North American
Have a dip recipe you love, be sure to share it with the YumSugar Community, and we just might feature you on the site!