Roasted Red Pepper Soup Recipe
Soup's On: Roasted Red Pepper Soup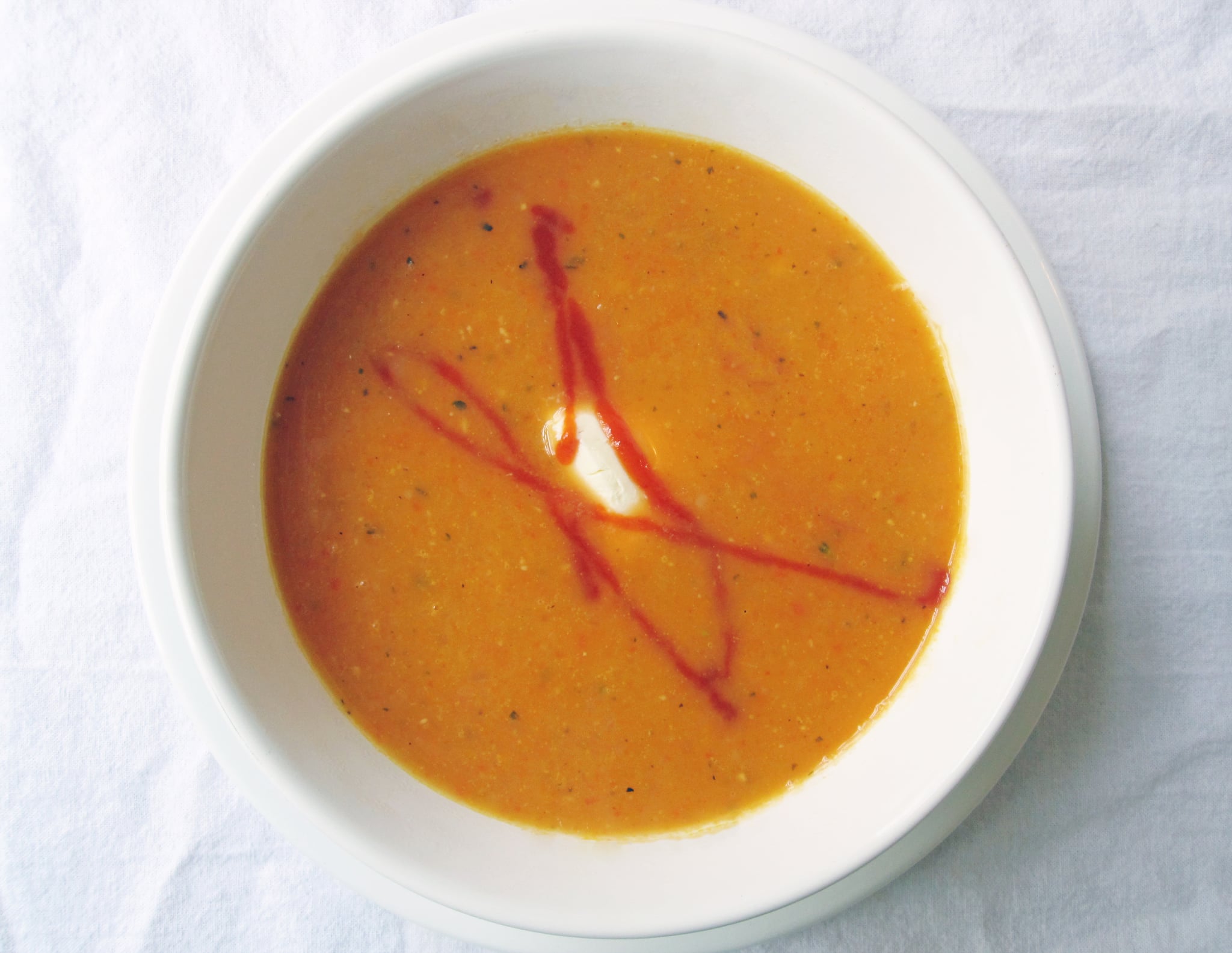 The other day I had friends over for dinner, and since it was raining, I wanted to serve a comforting meal like soup and sandwiches. The classic soup and sandwich combination is tomato soup and grilled cheese, but I was in the mood for something a little different, something like roasted red pepper soup and grilled cheese sandwiches with prosciutto (stay tuned for that recipe!).
This easy soup, which comes together in about 45 minutes, consists of jarred roasted red peppers, fresh thyme, onions, and garlic. It's hefty thanks to one potato and creamy due to the dollop of mascarpone cheese on the finished product. Although the recipe doesn't call for it, I garnished the soup with a drizzle of Sriracha sauce. It gives the rich, velvety soup a spicy kick. Want the uncomplicated recipe? Keep reading.
Ingredients
4 tablespoons olive oil
2 onions, chopped
2 carrots, peeled and chopped
3 garlic cloves, chopped
2 teaspoons chopped fresh thyme leaves
6 cups chicken broth
2 (12-ounce) jars roasted red bell peppers preserved in water, drained
1 russet potato, peeled and coarsely chopped
1/2 cup dry white wine
1 tablespoon sugar
Salt and freshly ground black pepper
16 (3/4-inch thick) baguette slices, cut into 1/2 to 3/4-inch cubes
1/2 cup mascarpone cheese
Sriracha, optional for serving
Directions
Heat 2 tablespoons of oil in a heavy large pot over medium-high heat. Add the onions, carrots, garlic, and thyme and saute until the onions are translucent, about 5 minutes.
Add the broth, bell peppers, potato, wine, and sugar. Bring to a simmer over high heat.
Decrease the heat to medium-low. Partially cover and simmer until the potatoes are very tender, stirring occasionally, about 30 minutes. Cool the soup slightly.
Using an immersion hand blender, puree the soup in the pot until it is smooth. Alternately, working in batches, puree the soup in a regular blender, taking care while blending warm liquids. Season the soup, to taste, with salt and pepper.
Meanwhile, heat the remaining 2 tablespoons oil in a heavy large skillet over medium heat. Add the bread cubes and saute until they are crisp and golden, about 8 minutes.
Ladle the soup into bowls. Dollop a tablespoon of mascarpone in the center of each bowl and top with croutons. Sprinkle with pepper, drizzle decoratively with Sriracha, if desired, and serve.
Serves 8.
Information
Category

Main Dishes, Soup

Cuisine

Italian