Roasted Red Peppers With Garlic
12 Days of Edible Gifts: Roasted Red Peppers With Garlic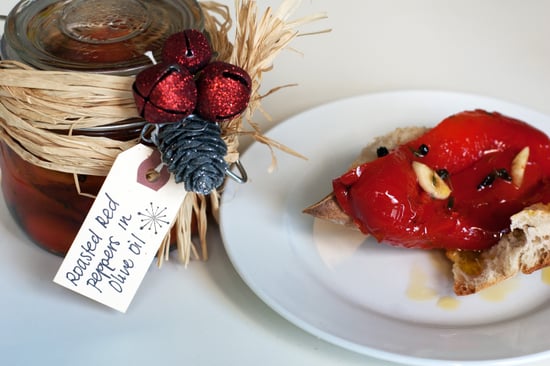 While I do appreciate sugary gifts during the holiday season, I tend to prefer savory provisions filled with flavor. Things like marinated feta cheese get me all excited, which is why roasted red peppers with garlic make a wonderful present.
This edible gift is incredible easy to make, lasts up to a week in the refrigerator, and is a colorful and flavorful way to show somebody that you appreciate them. Roasted red peppers can be enjoyed on a fresh, crunchy baguette, in a sandwich, on a pizza — the possibilities are endless! Stuff your peppers into a pretty jar, label it, and decorate with raffia and sweet Christmas decorations.
Ingredients
4 pounds red bell peppers (about 8 medium)
1 1/2 teaspoons dried oregano
1 teaspoon peppercorns
4 to 6 cloves of garlic, thinly sliced
1/4 to 1/2 teaspoon salt
Mild extra-virgin olive oil
Directions
Roast the peppers over the flame of a gas stove or in a broiler until the skins are blackened and blistered.
Put them in a paper bag and roll it up tightly, or in a bowl, covered snugly with a kitchen towel. When cool enough to handle, peel off the skin, cut in half lengthwise, and remove and discard the stem and seeds. Slice lengthwise into strips about 1/2 inch wide.
Pack the peppers into a clean 1 1/2-pint jar, sprinkling peppercorns, garlic, salt, and oregano throughout.
Pour in olive oil to cover completely. Cover rightly and store for up to 1 week in the refrigerator.
Makes about 3 cups.
Information
Category

Appetizers

Cuisine

North American